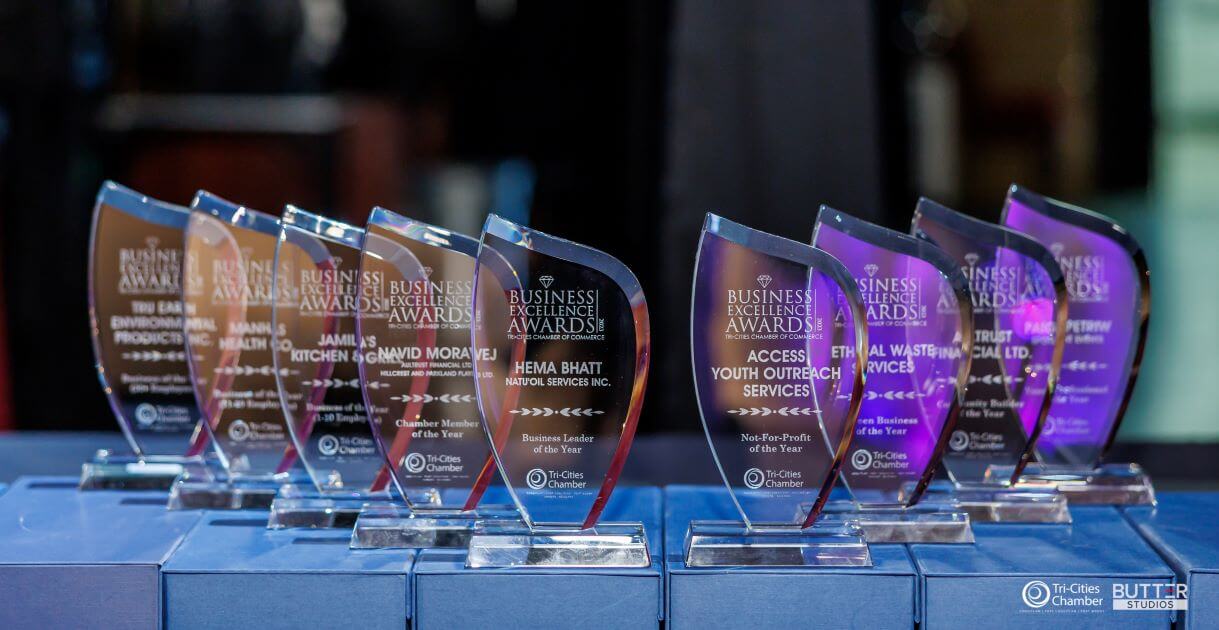 (TRI-CITIES) May 1, 2023 — More than 400 Tri-Cities Chamber of Commerce members, dignitaries, and community members gathered at the Hard Rock Show Theatre in Coquitlam on Saturday to celebrate the Chamber's Business Excellence Awards at a Paris-themed gala.
"Our Chamber takes great pride in being a convener of business, government, and community to foster dialogue focused on solutions to the complex economic, social, and environmental challenges we face," said Leslie Courchesne, CEO, Tri-Cities Chamber. "And we are so proud to celebrate you, and promote your amazing businesses here in the Tri-Cities, which is what tonight is all about."
The Chamber received 100 nominations for its eight award categories. A volunteer panel of 10 judges selected three finalists for each award, with the recipients announced at the gala. For the ninth award, Ryan Whittle, Past Chair of the Chamber's Board of Directors bestowed the Chamber Member of the Year to Navid Morawej. The event was emceed by Paul Haysom, Global BC Morning News Anchor, and presented by Douglas College.
2023 BUSINESS EXCELLENCE AWARDS RECIPIENTS
SELECT QUOTES
Paul Macdonald, Owner, Ethical Waste Services, Green Business of the Year:
"Thank you so much for believing in us. The Tri-Cities Chamber has really helped us to build a community around our business. We really have a passion for helping the community... A lot of people told me when I started this business there's no way that you can donate half your profits and sustain a business. Well, this is our 10th year. We've donated over $350,000 to help youth in the community. Don't ever let people tell you what can be done and what can't be, because if you have a dream, if you have a vision, just follow it. Because it will come true."
Hema Bhatt, Senior Vice President, Natu'oil Services, Business Leader of the Year:
"As a business leader, I've always believed that success is a team effort, and I've been fortunate to have had a supportive network. My amazing husband, my mentor, Haresh Bhatt, who has overcome so many obstacles and adversities with his positive attitude. He taught me the value of persistence and hard work... This award is not just a recognition of my achievement, but a reflection of the collective efforts of all those who have supported me along the way. I am truly grateful for this honour. I will continue to work hard and live up to the expectation that comes with it."
Brad Liski, CEO & Co-Founder, Tru Earth Environmental Products, Business of the Year (30+ employees):
"This award for us is because of our customers... [You are] what we call the changemakers. You are the ones that got us to where we are in such a short period of time. In our four-year short history, you, along with changemakers now in over 80 countries, have prevented more than 100 million plastic containers from ever being produced. You have allowed us to donate over 25 million loads of laundry detergent to food banks, shelters, and even hospitals throughout the global south. And you, along with Community Living, have helped us employ adults with developmental disabilities in our organization. These are the things that drive us. These are the things that wake us up in the morning. So thank you, as the changemakers... We all need us all to be bold, to stretch our thinking, and to go faster. And the planet for us is our driving force. So I hope that everyone here continues to press to make the Tri-Cities one of the best business communities in the Lower Mainland, if not in Canada."
Jennifer Blatherwick, Interim Executive Director, ACCESS Youth Outreach Services, Not-for-Profit of the Year:
"I look around this room, and I think there's probably someone at just about every table... who has supported ACCESS Youth in this last year...The support that you have given means that the people who are sitting with me... my board and my employees, they can make a difference in those kids' lives. They can change the trajectory. They can change the future. Because of your help. So I want you to give yourselves a round of applause for the love and the care and the kindness that you've all shown to the youth in the Tri-Cities."
Kathy Denton, President, Douglas College, Business Excellence Awards Presenting Sponsor:
"The list of finalists is extremely impressive. The fact that there were 100 submissions for awards … is a very strong indicator that the Tri-Cities is a great place to do business. I think its also a strong indicator that the Tri-Cities Chamber is doing a wonderful job of supporting businesses... More of our students come from the Tri-Cities than from any other area in Metro Vancouver... At Douglas College we recognize that its challenging for employers to find qualified people... We are here for you. And you'll find us receptive to your ideas. This room is filled with people who have great ideas. If you ever wished you could influence the training of the people applying to work in your organization, you can. Just reach out to us and tell us what you need... The Tri-Cities Chamber creates wonderful opportunities to help us form connections and strengthen the community."
View the recipient photos here.
View the event photo album here.
View the attendees portraits here.
Read the 2023 Chamber Member of the Year story here.
Read the 2023 Finalists Announcement story here.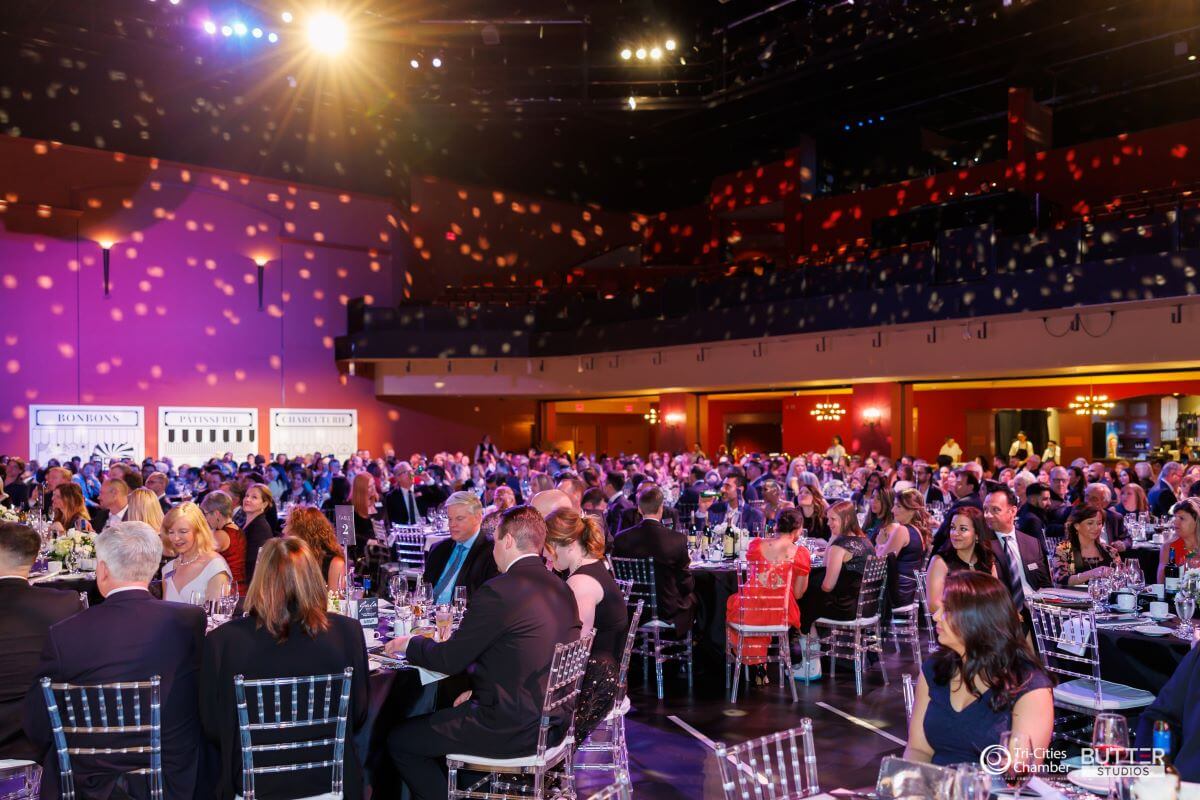 -30-
Since 1971, the Tri-Cities Chamber of Commerce has been the largest business association serving Coquitlam, Port Coquitlam, Port Moody, Anmore, and Belcarra, now representing 1,000+ organizations from every sector. The Chamber works to foster economic development, provide connections and benefits, and influence public policy at all levels of government to ensure strong business and strong communities. The Tri-Cities Chamber is an active member of the BC and Canadian Chambers of Commerce.
For more information, contact:
Leslie Courchesne, Chief Executive Officer
Tri-Cities Chamber of Commerce
ceo@tricitieschamber.com
604.468.6870