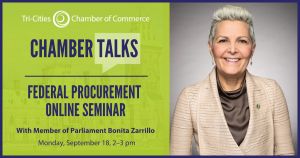 Hosted by Member of Parliament Bonita Zarrillo, the Tri-Cities Chamber's online seminar focuses on how federal procurement works, and how your business can compete.
Learn More >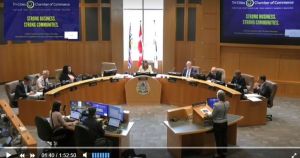 The City of Coquitlam and City of Port Moody Councils welcomed Tri-Cities Chamber of Commerce CEO Leslie Courchesne to present an annual update. The Coquitlam Council-in-Committee delegation took place September 11, and Port Moody City Council's on September 12.
Learn More >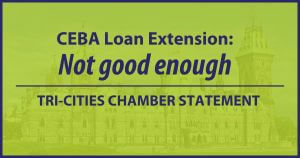 The Tri-Cities Chamber of Commerce is disappointed in the federal government's announcement to extend the repayment deadline for CEBA (Canadian Emergency Business Account) loans for struggling businesses.
Learn More >
Welcome to our Newest Members
October 17 | 3 - 7 pm
Support local! Meet exhibitors from the Tri-Cities business community. Connect with hundreds of attendees. Sample food from local vendors. Learn more >
October 18 | 7:30 - 9:30 am
Join us at De Dutch for a conversation with Port Coquitlam Mayor Brad West on issues affecting business and community.  Learn more >
Thank You to our Leading Partners & Sponsors