(TRI-CITIES) May 1, 2023 — The Tri-Cities Chamber of Commerce awarded Navid Morawej, Managing Partner of Aultrust Financial and Principal of Parkland Players Learning Centre, the 2023 Chamber Member of the Year at its Business Excellence Awards on Saturday.
"As an entrepreneur, I have come to understand the transformative power that entrepreneurship can have on an individual's character. In the early years of my journey, I honed my skills in analyzing businesses, identifying their needs, and designing and implementing effective processes. Each part of my journey I gained a unique perspective on the business world that has served me well over the years," said Navid Morawej. "Being recognized as the Chamber Member of the Year is a great honour, and I am grateful for the opportunities I have had to serve my community."
Ryan Whittle, Past Chair of the Tri-Cities Chamber Board of Directors, presented the award to Navid in front of more than 400 guests at the Hard Rock Show Theatre in Coquitlam.
"Navid is a tireless advocate and supporter of the Chamber, its staff team, and its efforts to support the business community. Navid is at practically every single Chamber event throughout the year," said Ryan Whittle. "He arrives early, stays to the end, helps out the team, and engages with everyone. He regularly promotes the Chamber to businesses throughout the community, and we so greatly appreciate it. He is a connector, a community supporter, and works tirelessly to make our Chamber and our communities a better place."
Having grown up in the Tri-Cities after his family immigrated from Iran when he was a child, Navid Morawej tirelessly gives back to the community by donating his time, energy, and resources. He is involved as a board member of several educational and charitable organizations and is always looking for ways to help the community he grew up in.
Navid's company Aultrust has contributed over 1.25M to various non-profit organizations including Eagle Ridge Hospital, the Port Moody Firefighters Charitable Society, the Rotary Club of Port Moody and the Port Moody Foundation. In addition, Aultrust has partnered with and supported other local non-profit associations such as the Tri-Cities Chamber of Commerce, Port Moody Art Association and the Rowing Club of Port Moody.
Navid graduated from Centennial High School then moved on to Simon Fraser University. Well before obtaining his degree, Navid started his career in his Port Moody basement developing software and in 2003 became founder of BITAA Technology. Navid was instrumental in building the company from the ground up and bringing together talented people, processes, and the technology to effectively manage and successfully run the business.
Navid changed his focus in 2010 to real estate marketing for major development projects across Metro Vancouver. Combining his software and marketing background, he provided customized investment portfolio management solutions to developers and their investors.
In 2015, Navid founded Aultrust Financial, a real estate investment and development firm headquartered in Vancouver with an office in Port Moody. Taking a grassroots approach to building community relations through direct engagement with community members, Aultrust demonstrated genuine care about the future of the community by taking a lead role in understanding needs and shaping policies that ensure those goals are met.
In 2019, Aultrust introduced its first concrete development in the city of Port Moody, Bayrock Terrace on Henry, the only concrete project to receive council approval in the city. Aultrust is currently working on its first community development project in the Village of Anmore, spanning 27 acres of property.
Navid is also owner of Parkland Players, a multifaceted education centre with over 150 students and 20+ staff members in multiple locations in the Tri-Cities. Parkland Players was established in 1995 to fill a community need for quality daycare and education within the community.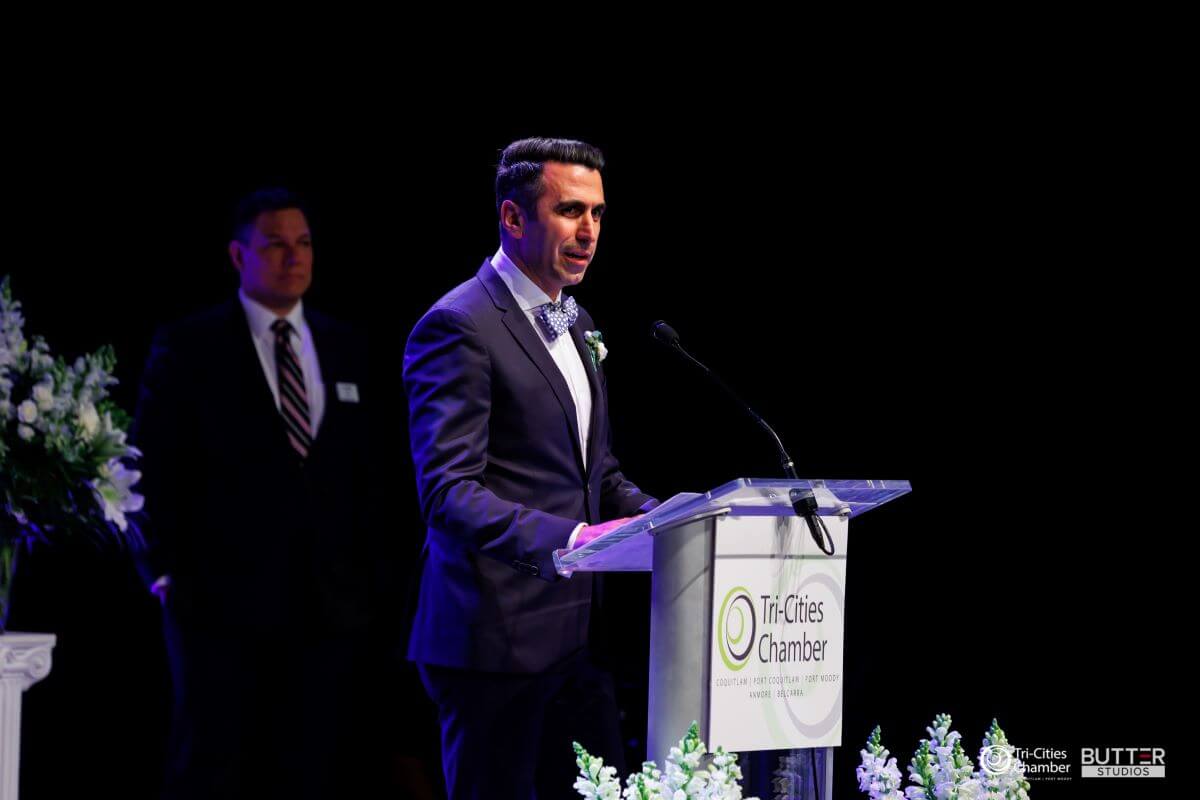 Read more about the 2023 Business Excellence Awards.
-30-
Since 1971, the Tri-Cities Chamber of Commerce has been the largest business association serving Coquitlam, Port Coquitlam, Port Moody, Anmore, and Belcarra, now representing 1,000+ organizations from every sector. The Chamber works to foster economic development, provide connections and benefits, and influence public policy at all levels of government to ensure strong business and strong communities. The Tri-Cities Chamber is an active member of the BC and Canadian Chambers of Commerce.
For more information, contact:
Leslie Courchesne, Chief Executive Officer
Tri-Cities Chamber of Commerce
ceo@tricitieschamber.com
604.468.6870