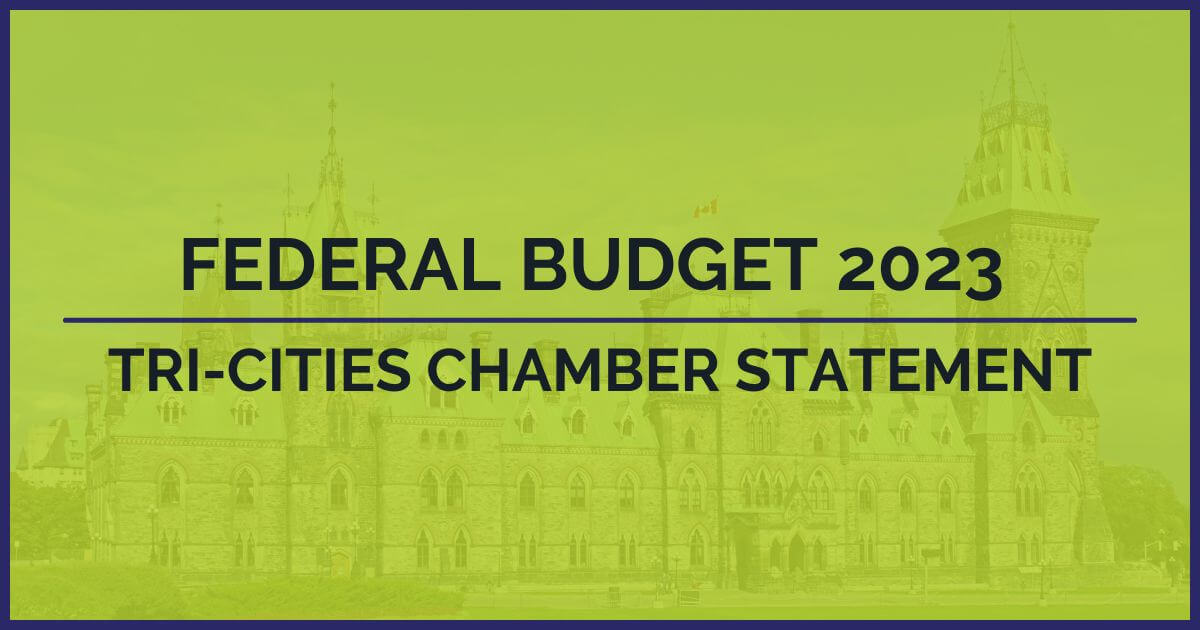 (TRI-CITIES) March 29, 2023 — Canada's Deputy Prime Minister and Minister of Finance Chrystia Freeland unveiled the 2023 Federal Budget yesterday in Ottawa.
"We are pleased to see a number of items in this year's budget that the Tri-Cities Chamber and our counterparts across the country were advocating for, including a national supply chain strategy, investments to address the labour shortage, and lowering of credit card fees paid by small business," said Leslie Courchesne, CEO, Tri-Cities Chamber of Commerce. "We know this budget comes at a time of significant challenges in Canada and globally, but we are increasingly concerned with the national debt and what that will mean for our local businesses and communities in the years ahead."
"Businesses across the country are feeling the impact of anemic growth coupled with labour shortages and rising costs for doing business," said Perrin Beatty, President and CEO of the Canadian Chamber of Commerce. "For future generations to enjoy the opportunities and prosperity we have been so fortunate to inherit, we must unleash the potential of private industry by building a 21st Century workforce, investing in trade-enabling infrastructure and fixing our broken regulatory system."
"Our country cannot borrow its way to prosperity," Beatty adds. "Canada needs policies, strategic investments and federal leadership that will spur economic growth. Canada's businesses are anxious to do their part, but the federal government needs to see them as partners, not problems, in building a more successful Canada."
The Tri-Cities Chamber engaged in federal advocacy efforts with local Members of Parliament Ron McKinnon and Bonita Zarillo, visiting Ministers and Parliamentary Secretaries, and by attending the Canadian Chamber of Commerce AGM and Convention, and Parliament Hill Day last Fall.
Read more:
Related stories:
-30-
Since 1971, the Tri-Cities Chamber of Commerce has been the largest business association serving Coquitlam, Port Coquitlam, Port Moody, Anmore, and Belcarra, now representing 1,000+ organizations from every sector. The Chamber works to foster economic development, provide connections and benefits, and influence public policy at all levels of government to ensure strong business and strong communities. The Tri-Cities Chamber is an active member of the BC and Canadian Chambers of Commerce.
For more information, contact:
Leslie Courchesne, Chief Executive Officer
Tri-Cities Chamber of Commerce
ceo@tricitieschamber.com
604.468.6870