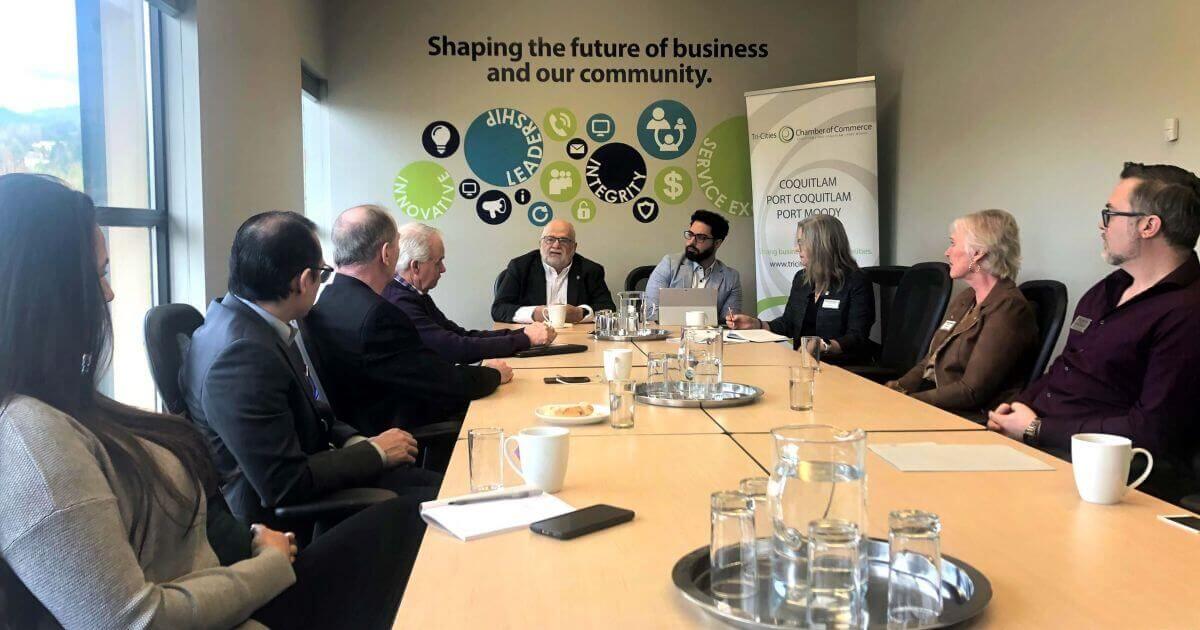 (TRI-CITIES) January 19, 2023 — Tri-Cities Chamber of Commerce representatives met with Coquitlam-Port Coquitlam MP Ron McKinnon today to discuss priorities for the upcoming 2023 federal budget.
"Our Chamber prides itself on advocating for public policy and resources that foster local prosperity, creating strong business and strong communities," said Leslie Courchesne, CEO of the Tri-Cities Chamber. "Many local businesses are struggling to recover from the pandemic, and are feeling the effects of the labour force shortage, supply chain issues, rising costs, and red tape. Budget 2023 is an opportunity to create a more favourable environment for business resilience and success in order to weather the upcoming recession."
MP McKinnon listened to concerns and fielded questions on a wide range of topics, including the national debt, prudent controls on spending, a comprehensive review of taxation, housing, food security and food waste, indigenous reconciliation, workforce strategies to address labour shortages, immigration, employment for people with disabilities, and more.
Chamber attendees also extended appreciation to the federal government for the pandemic support programs executed so quickly at the beginning of the pandemic, and for the challenging work to support business and communities over the past three tumultuous years that have also seen a rise in global unrest and the effects of climate change.
The federal government's Fall Economic Statement issued in November 2022 made commitments to fiscal prudence and moving toward a balanced budget.
The meeting with MP McKinnon and Manager of Outreach and Stakeholder Relations Arash Rahmani was attended by Chamber Board Directors Mike Forrest, Adel Gamar, Ryan Jamieson, Kathryn Millar, Reihaneh Mirjani, and Vivien Symington, Chamber CEO Leslie Courchesne, Chamber Manager of Marketing and Membership Experience Sandra Jette, and Chamber members Igor Bjelac, Manuel Diaz, Gaetan Royer, and Vanessa Wideski.
The federal government has a survey, Let's Talk Budget 2023, open to the public until February 10. It takes an estimated five minutes to complete.
-30-
Since 1971, the Tri-Cities Chamber of Commerce has been the largest business association serving Coquitlam, Port Coquitlam, Port Moody, Anmore, and Belcarra, now representing 1,000+ organizations from every sector. The Chamber works to foster economic development, provide connections and benefits, and influence public policy at all levels of government to ensure strong business and strong communities. The Tri-Cities Chamber is an active member of the BC and Canadian Chambers of Commerce.
For more information, contact:
Leslie Courchesne, Chief Executive Officer
Tri-Cities Chamber of Commerce
ceo@tricitieschamber.com
604.468.6870