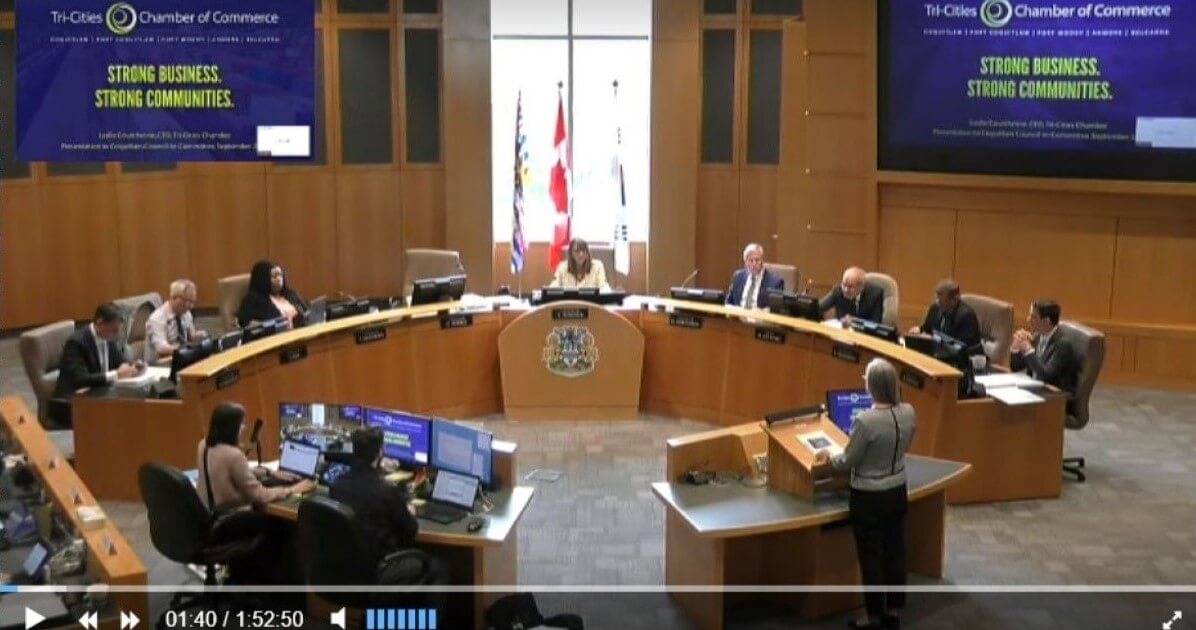 (TRI-CITIES) September 17, 2023 — The City of Coquitlam and City of Port Moody Councils welcomed Tri-Cities Chamber of Commerce CEO Leslie Courchesne to present an annual update. The Coquitlam Council-in-Committee delegation took place September 11, and Port Moody City Council's on September 12.
"It's no secret that cities and chambers that work well together are the stronger for it," said Courchesne, during the five-minute virtual presentation. "The Tri-Cities Chamber is uniquely positioned to partner with your city to enhance economic development and local prosperity... How can our partnership best be leveraged to bring the strongest possible results for business and community?"
Courchesne stated the Chamber's membership is at an all-time high of nearly 1,100 member organizations across the Tri-Cities, with 87 percent being small business.
"But make no mistake, we serve all businesses across our region," Courchesne said. "We strive, as our vision says, to be the voice and essential resource of a thriving business community."
Courchesne provided some highlights from the year on the Chamber's advocacy work and events, as well as why members join and continue to support the Chamber.
Acting Coquitlam Mayor Teri Towner congratulated the Chamber on reaching its 1,000 member organizations milestone.
Port Moody Mayor Meghan Lahti and Councillors Kyla Knowles and Diana Dilworth thanks Courchesne for her participation on the Mayor's Task Force on Arts and Business, and the Port Moody Economic Development and Tourism Committee.
"It's good to be reminded... I think a lot of people don't understand what chambers of commerce do for communities," said Councillor Knowles, who also commended the Chamber on its recent International Women's Day event.
"The Chamber's role in education for small business, through your Chamber Talks series, through the work that you're doing around Truth and Reconciliation... you are providing a level of education that small business owners may not have other access to," said Port Moody Councillor Diana Dilworth.
Port Moody Councillor Callan Morrison, also a small business owner and Chamber member, commented on the excellent resources for small business on the Chamber's website, the networking and support amongst Chamber members, and the importance of the Chamber's Business Excellence Awards.
City of Coquitlam: View the video of the Sept 11 presentation on the City's website.
City of Port Moody: View the video of the Sept 12 presentation on the City's website.
Related story: Courchesne made a presentation to Port Coquitlam City Council on July 25. Read the story here.
-30-