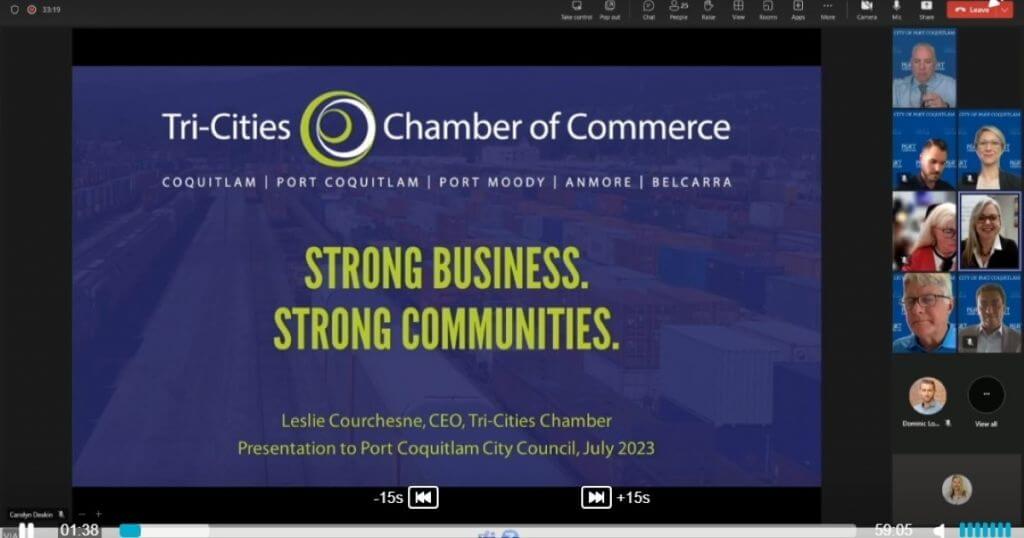 (PORT COQUITLAM) July 28, 2023 — The City of Port Coquitlam's Council-in-Committee welcomed Tri-Cities Chamber of Commerce CEO Leslie Courchesne this week to present an annual update.
"It's no secret that cities and chambers that work well together are the stronger for it," said Courchesne, during the five-minute virtual presentation. "The Tri-Cities Chamber is uniquely positioned to partner with the City of Port Coquitlam to enhance economic development and local prosperity... How can our partnership best be leveraged to bring the strongest possible results for business and community in Port Coquitlam?"
Courchesne stated the Chamber's membership is at an all-time high of 1,100 member organizations across the Tri-Cities, with 87 percent being small business. A big boost in numbers was the Chamber's joint membership agreement signed with the Port Coquitlam Business Improvement Association last fall.
"But make no mistake, we serve all businesses in Port Coquitlam and across our region," Courchesne said. "We strive, as our vision says, to be the voice and essential resource of a thriving business community."
Courchesne provided some highlights from the year on the Chamber's advocacy work and events, as well as why members join and continue to support the Chamber. She commended the City of Port Coquitlam for its recent work to revitalize the downtown core, and streamline development applications and business license processes.
"Thank you very much... for all the work the Chamber does for our communities. We certainly appreciate the strong relationship we have between Port Coquitlam and the Chamber, and of course being home to the majority of your membership, something we're very proud of," said Port Coquitlam Mayor Brad West. "I think there is a lot of benefit that can be gained, both for the City and by the Chamber to our mutual benefit, by really making a focus of deepening that relationship."
Courchesne fielded questions from Councillors on reasons why businesses should join the Chamber, membership levels, business locations, and outreach.
View the video recording of this presentation on the City of Port Coquitlam website.
Courchesne will be making presentations to the City of Coquitlam Council-in-Committee on September 11, and Port Moody City Council on September 12.
-30-
Since 1971, the Tri-Cities Chamber of Commerce has been the largest business association serving Coquitlam, Port Coquitlam, Port Moody, Anmore, and Belcarra, now representing 1,000+ organizations from every sector. The Chamber works to foster economic development, provide connections and benefits, and influence public policy at all levels of government to ensure strong business and strong communities. The Tri-Cities Chamber is an active member of the BC and Canadian Chambers of Commerce.
For more information, contact:
Leslie Courchesne, Chief Executive Officer
Tri-Cities Chamber of Commerce
ceo@tricitieschamber.com
604.468.6870