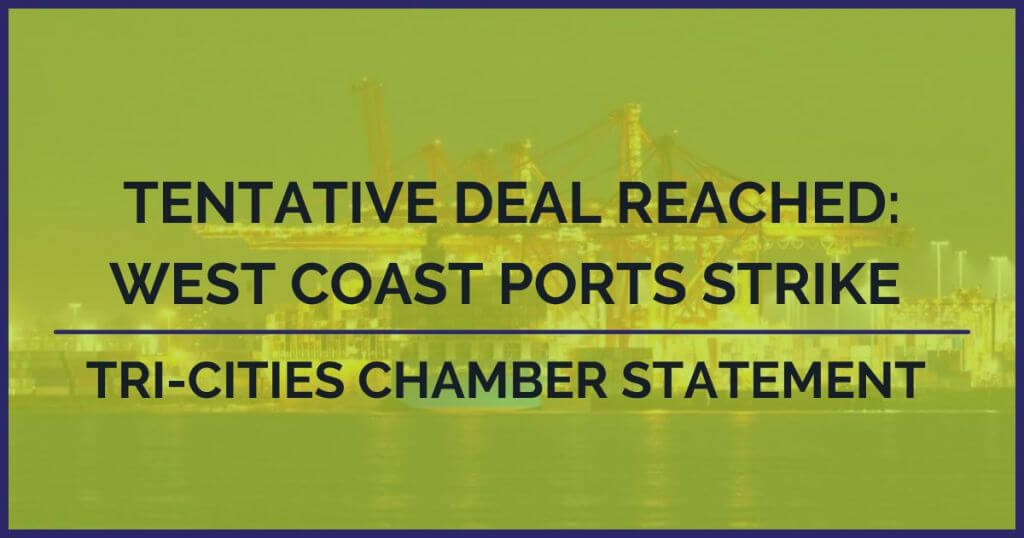 (TRI-CITIES) July 13, 2023 — The Tri-Cities Chamber of Commerce issued the following statement in response to the tentative four-year agreement to end the labour disruption at British Columbia's ports.
"We are pleased to see a tentative deal to end the 13-day strike at West Coast ports, and thank the federal government for stepping in to appoint a mediator," said Leslie Courchesne, CEO, Tri-Cities Chamber. "But the repercussions of this strike to Canada's international reputation, let alone the $10 billion disruption in trade, will have impacts felt for years to come. And it was yet another big blow to many local businesses who already have more than enough challenges to grapple with.
"We call on Prime Minister Justin Trudeau to take action to ensure Canadian ports and supply chains are not ground to a halt in future. We must prevent this from happening again," Courchesne said.
The tentative agreement is subject to ratification by the International Longshore and Warehouse Union (ILWU) and the BC Maritime Employers Association (BCMEA).
The Tri-Cities Chamber has been advocating for a swift end to the strike at West Coast ports. On July 5th our Chamber signed a joint letter with more than 120 chambers of commerce, boards of trade, and business associations across Canada to the Prime Minister urging the federal government to end to the disruption and safeguard the country's supply chains.
Pacific Coast Terminals Co. Ltd. in Port Moody, and the Vancouver Fraser Port Authority are members of the Tri-Cities Chamber.
-30-
Since 1971, the Tri-Cities Chamber of Commerce has been the largest business association serving Coquitlam, Port Coquitlam, Port Moody, Anmore, and Belcarra, now representing 1,000+ organizations from every sector. The Chamber works to foster economic development, provide connections and benefits, and influence public policy at all levels of government to ensure strong business and strong communities. The Tri-Cities Chamber is an active member of the BC and Canadian Chambers of Commerce.
For more information, contact:
Leslie Courchesne, Chief Executive Officer
Tri-Cities Chamber of Commerce
ceo@tricitieschamber.com
604.468.6870