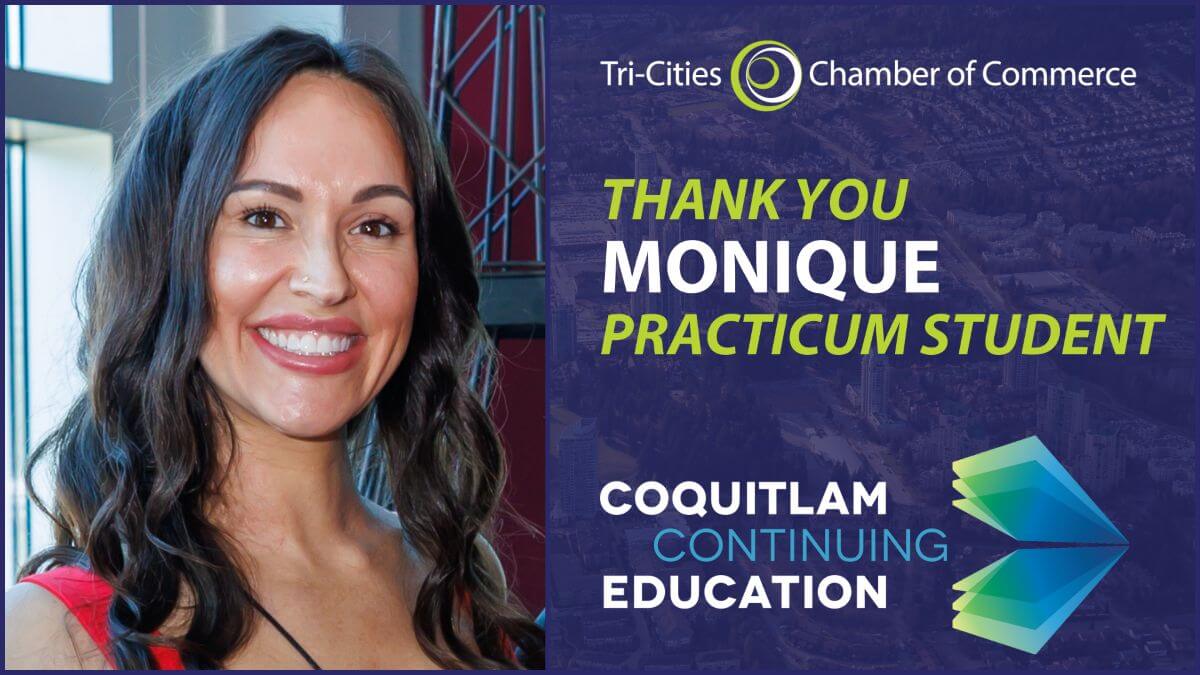 (TRI-CITIES) May 23, 2023 — Coquitlam Continuing Education (CCE) student Monique Andreasen recently completed a three-week practicum at the Tri-Cities Chamber of Commerce as the capstone of her Computerized Accounting Diploma program.
"Monique joined us at one of our busiest times of year, with our Business Excellence Awards gala in the middle of her practicum with us," said Leslie Courchesne, CEO, Tri-Cities Chamber. "She hit the ground running, and her infectious enthusiasm to help us with a wide variety of tasks could not have come at a better time. Monique was amazing to work with.
"I know many of our members are struggling to fill their vacant positions right now, given the challenging labour market. If you're an employer looking for some additional help, and also want to pay it forward by giving these students an opportunity to grow their skills and experience, I highly recommend Coquitlam Continuing Education's practicum students," said Courchesne. "And you might just find a great match. We have hired a practicum student into a full-time roll. Camelia Maxim, Administrative Lead with the Chamber, is a CCE grad of the same program as Monique. Camelia has been with us more than five years."
"Going back to school as a mature student was a bit scary, but CCE had smaller classrooms and a lot of extra help if needed. I felt supported and cared for," said Andreasen. "Entering my practicum at the Tri-Cities Chamber of Commerce opened my eyes to a caring sense of community, amazing businesses, and a whole new world of networking.
"These experiences have left a positive imprint on my life and I am forever grateful for this opportunity. Thank you Coquitlam Continuing Education and Tri-Cities Chamber for helping me grow as a person," Monique added.
Monique was motivated to take the CCE program to increase her skills to help run her husband's company, Kelsie's Flooring Inc. After learning about the Chamber during her practicum, she ensured Kelsie's Flooring joined the Tri-Cities Chamber to access its advocacy, benefits, connections and savings, and to keep in touch with the Chamber team.
"Our Business, Careers and Job Skills programs are vital for members of our community to get the 'right now' training that they need to quickly and confidently enter or return to the workforce," said Michael McGlenen, Coquitlam Continuing Education District Principal. "The bravery and commitment exhibited by our students who graduate from these programs deserves celebration and I am deeply appreciative for you taking this time to recognize Monique and our Computerized Accounting diploma program.  We hope she is as proud of her accomplishments as we are."
"We are grateful for the support from our fellow Chamber members and other local businesses who host our students during their practicums," said Adrian Cheng, Assistant Coordinator, Business, Careers & Job Skills, CCE. "These business leaders generously provide the opportunities for our students to apply the skills they've learned in their courses in real life situations."
For employers looking to host a practicum student, contact Coquitlam Continuing Education at 604-936-4261.
Coquitlam Continuing Education has been a member of the Tri-Cities Chamber of Commerce for nearly 40 years. CCE is the lead sponsor of the Chamber's Tri-Cities Young Professionals program.
-30-
Since 1971, the Tri-Cities Chamber of Commerce has been the largest business association serving Coquitlam, Port Coquitlam, Port Moody, Anmore, and Belcarra, now representing 1,000+ organizations from every sector. The Chamber works to foster economic development, provide connections and benefits, and influence public policy at all levels of government to ensure strong business and strong communities. The Tri-Cities Chamber is an active member of the BC and Canadian Chambers of Commerce.
For more information, contact:
Leslie Courchesne, Chief Executive Officer
Tri-Cities Chamber of Commerce
ceo@tricitieschamber.com
604.468.6870