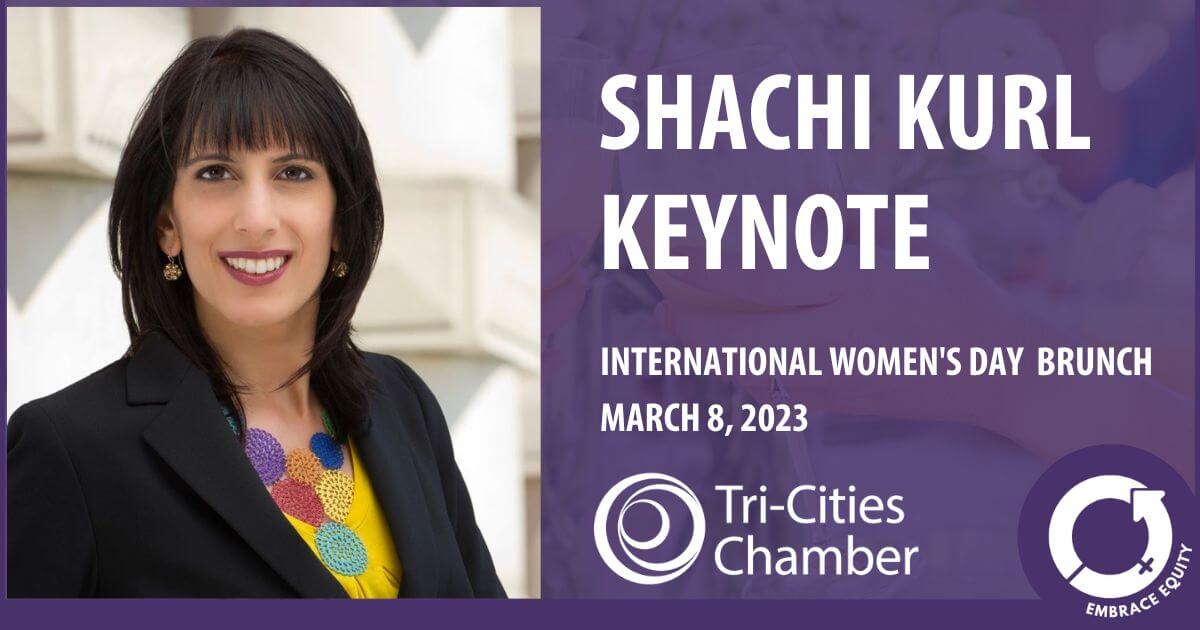 (TRI-CITIES) February 2, 2023 — Shachi Kurl will provide a keynote on women in leadership at the Tri-Cities Chamber of Commerce International Women's Day brunch at Westwood Plateau Golf & Country Club on March 8. Featured regularly in mainstream media, you may also recognize Kurl as the moderator of the national leaders' debate televised live in advance of the 2021 federal election.
As the head of the Angus Reid Institute, Shachi Kurl uses data to consider today's most critical questions. The non-partisan research she oversees reveals startling truths about how our values, beliefs, and priorities shape both the future of our country, and the current reality of our lives. In her frank and compelling talks, Kurl shares how to get to the heart of our major cultural, economic, and political shifts—and find common ground during times of upheaval.
When The Wall Street Journal, The Globe and Mail or The National Post want to understand everything from the public perception of Justin Trudeau, to the meat consumption of millennials, they turn to Shachi Kurl. As the President of the Angus Reid Institute, Kurl has a remarkable grasp on what we're collectively thinking about society's most pressing issues. One of North America's premier nonpartisan, nonprofit research and public polling organizations, the Institute helps debunk harmful myths and expand public knowledge in a meaningful way. Kurl, having spent the first half of her career as a political reporter, brings nearly two decades of public policy expertise to her role, and has even been sought by policymakers to testify before the House of Commons. Today, she is regularly called upon by the media for her unique insights, including on CBC's At Issue, Canada's most watched political panel.
Kurl is a recipient of the prestigious Jack Webster Award for Best TV Reporting. Along with former Australian and UK Prime Ministers Julia Gillard and Margaret Thatcher, she is an Alumnus of the US State Department's International Visitor Leadership Program. She holds a degree in Journalism and Political Science from Carleton University.
The Chamber's Women in Business Committee, chaired by Chamber Board Director Vivien Symington, spearheads the annual 200-person event which typically sells out well in advance. In addition to Kurl, the Chamber announced speaker panelists Martha Piper and Indira Samarasekera, authors of Nerve: Lessons on leadership from two women who went first.  Tickets for the 2023 brunch are now on sale, and every attendee will receive a complimentary copy of the book.
The brunch takes place 9 a.m. to noon, presented by the Scotiabank Women Initiative. For sponsorship opportunities, contact Nicole Lauzon, Membership Manager.
-30-
Since 1971, the Tri-Cities Chamber of Commerce has been the largest business association serving Coquitlam, Port Coquitlam, Port Moody, Anmore, and Belcarra, now representing 1,000+ organizations from every sector. The Chamber works to foster economic development, provide connections and benefits, and influence public policy at all levels of government to ensure strong business and strong communities. The Tri-Cities Chamber is an active member of the BC and Canadian Chambers of Commerce.
For more information, contact:
Leslie Courchesne, Chief Executive Officer
Tri-Cities Chamber of Commerce
ceo@tricitieschamber.com
604.468.6870