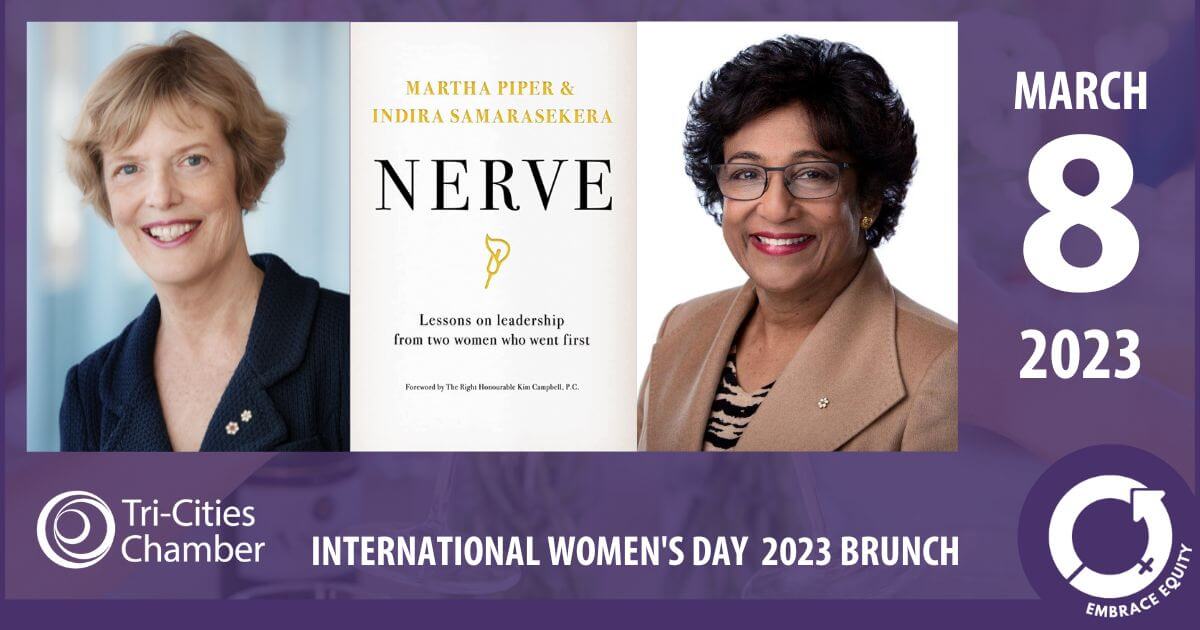 (TRI-CITIES) January 20, 2023 — The Tri-Cities Chamber of Commerce will host speakers Dr. Martha Piper and Dr. Indira Samarasekera, co-authors of Nerve: Lessons on leadership from two women who went first, at its International Women's Day Brunch on March 8.
Piper served as the first woman president of the University of British Columbia and has been a director of the Bank of Montreal, Shoppers Drug Mart and TransAlta Corporation.
Samarasekera served as the first woman president of the University of Alberta, is a director of Magna International, TC Energy, Intact Financial Corporation and Stelco, and has served as a director of the Bank of Nova Scotia.
Published in 2021 with a foreword by The Right Honorable Kim Campbell, P.C., the first female Prime Minister of Canada, Nerve earned an Amazon.ca #1 Best Seller designation, and is a recommended read by the National Business Book Awards. The book is touted as an excellent reference for both aspiring and established leaders, recognized for its honesty and authenticity as well as its intellectual strength and wisdom.
The Chamber's Women in Business Committee, chaired by Chamber Board Director Vivien Symington, spearheads the annual 200-person event which typically sells out well in advance.  Tickets for the 2023 brunch are now on sale, and every attendee will receive a complimentary copy of Nerve.
The brunch takes place 9 a.m. to noon at Westwood Plateau Golf & Country Club in Coquitlam, with presenting sponsor Scotiabank Women Initiative.
UPDATE Feb 2, 2023: The Chamber announced Shachi Kurl, President of the Angus Reid Institute, will provide a keynote on women in leadership. Read more.
For sponsorship opportunities, contact Nicole Lauzon, Membership Manager.
-30-
Since 1971, the Tri-Cities Chamber of Commerce has been the largest business association serving Coquitlam, Port Coquitlam, Port Moody, Anmore, and Belcarra, now representing 1,000+ organizations from every sector. The Chamber works to foster economic development, provide connections and benefits, and influence public policy at all levels of government to ensure strong business and strong communities. The Tri-Cities Chamber is an active member of the BC and Canadian Chambers of Commerce.
For more information, contact:
Leslie Courchesne, Chief Executive Officer
Tri-Cities Chamber of Commerce
ceo@tricitieschamber.com
604.468.6870