Tri-Local is designed to engage, educate and motivate our community to support local businesses and to keep their money within the Tri-Cities.
As the face of local businesses, the Tri-Local Collective strives to show consumers first-hand how their support of local independent businesses goes beyond those store-fronts and into the community as a whole.
Keeping Our Community Thriving, Together
The Tri-Cities Chamber is proud to be a lead member of the Tri-Local Collective — an initiative that is geared towards educating and motivating our community to support local Tri-Cities businesses and business owners.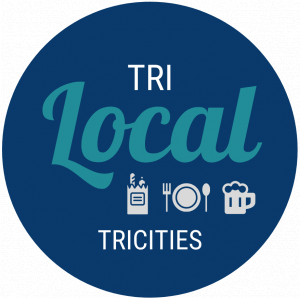 Taste Of The Tri-Cities
The second annual Taste Of The Tri-Cities food and drink festival was a huge success! From February 17 - March 12, 2023 over 55 Tri-Cities restaurants, breweries, cafes, pubs, bakeries, fast food spots and specialty retailers offered deliciously exclusive deals.
With over 1,000 visiting customers, 11 million ad impressions and $3,000 in contesting, Taste of the Tri-Cities was bigger than ever!
What is the Tri-Local Collective?
Tri-Local is a collective effort to support local businesses in the Tri-Cities.
Having first begun as a response to the COVID-19 pandemic in early 2020, the Tri-Cities Chamber of Commerce recognized that local businesses would struggle to thrive during lockdowns and capacity restrictions.
Foreseeing the need for a shop local initiative, the Chamber reached out to its partners, and together, they created the Tri-Local Collective.

Why Support Local?
Shopping local means supporting our local neighbours and their businesses. It's about giving our appreciation to local businesses for making our community unique.
Did you know that local businesses impact a community by:
Supporting local sports teams, events, and charities
Increasing city revenue by paying taxes, resulting in improved roads and schools
Reducing unemployment by providing jobs to our community
Creating a unique community identity
Creating competition which gives us better products and services.
Shopping local is not just about the local economy, it's about the people who make the Tri-Cities a thriving community!
Ways to Support Local
As a member of our Tri-Cities community, make the decision to spend your dollars locally and contribute towards our local economy. Local businesses donate 24X more per dollar earned to local charities than multinationals!
The next time you're deciding on where to eat, what store to shop from, or where to purchase a gift from, think local first.
But that's not all! Go beyond financial support and show our local businesses some love with your actions, time, and words, because when we support local businesses, we all win.
Here is a list of creative ways you can support local businesses:
Like, comment, and share their social media posts
Engage with the business on social media and make your own posts
Leave a positive review on Google, Yelp, or their social media page(s)
Word of mouth has a large impact. Tell a friend or relative about a local business you love
Purchase gift cards from a local business to gift to friends