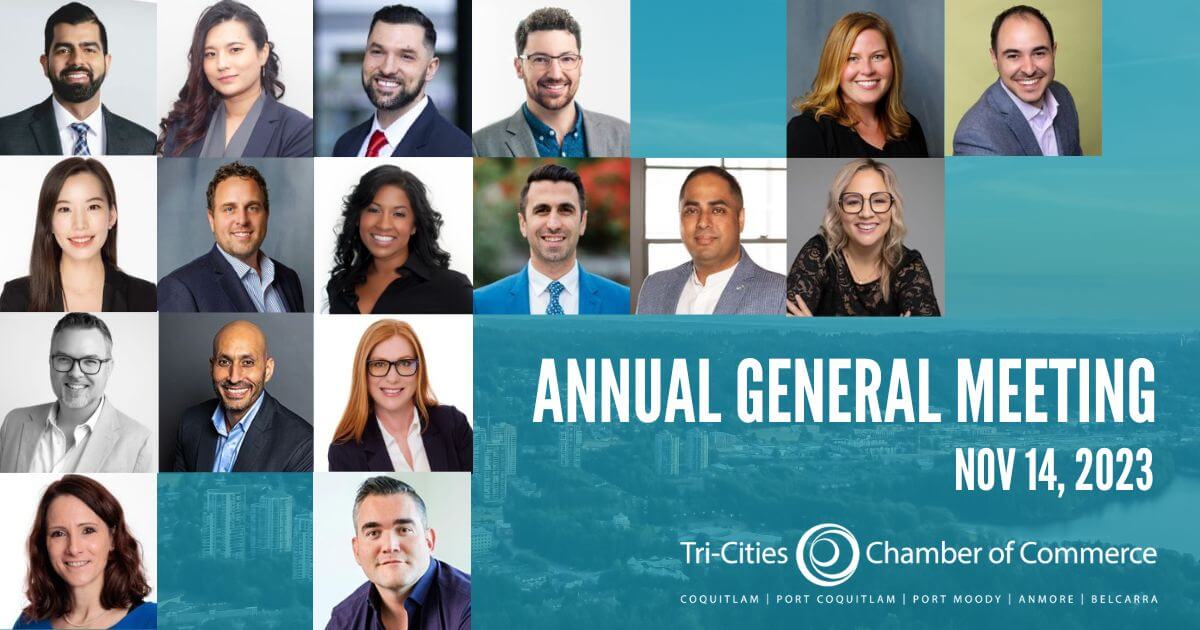 *Story updated November 9, 2023, to reflect a candidate's withdrawal from the election.
(TRI-CITIES) November 3, 2023 — The Tri-Cities Chamber of Commerce is pleased to announce the candidates standing for election to its 2024 Board of Directors. The election will take place at the Chamber's 52nd Annual General Meeting on November 14 at the Vancouver Golf Club, Coquitlam.
"Our Chamber could not exist without dedicated and passionate volunteers, giving their time and expertise to serve on our Board of Directors," said Leslie Courchesne, CEO, Tri-Cities Chamber. "For more than half a century, scores of local business leaders, non-profit executives, and community champions have skillfully guided our organization to grow and thrive. I am thrilled to see the strong interest from our members to join our Board."
Board Director Candidates: Five to be Elected / Re-elected
Vicky (Yi Min) Chen, Boro and Beyond / TruQuartz
Joe Deobald, Code Ninjas
Sunny Dharni, BTM Lawyers LLP
Adel Gamar, GLG Ltd.
Ryan Jamieson, Coquitlam Public Library
Katherine Kim, BDC
Justin Levine, Golbey Levine, Lawyers + Advisors
Elizabeth Molnarova, RBC
Navid Morawej, Aultrust
Jessica Prasad, Jessica Prasad Personal Real Estate Corporation
Stathis Savvis, William Wright Commercial
Devin Sharma, Kirmac Collision and Autoglass
The incoming Board Chair for 2024 is Daniel Richardson, BTM Lawyers, the Vice Chair is Jennifer McKinnon, Manhas Health Co./Downtown Port Coquitlam BIA, the Past Chair is Jenifer Wright, Westwood Plateau Golf and Country Club, and new Treasurer is Eric Salvador, Rise CPA. These positions will be put forward by motion at the AGM.
The 2024 Board also has five directors who will be continuing into the second year of their term: Chris Chong, Butter Studios; Mike Forrest, Forrest Marine Ltd.; Reihaneh Mirjani, Soul Bite Food; Pulkit Sharma, Peter Kiewit Sons ULC; and Vivien Symington, Club Aviva.
The Chamber's CEO Leslie Courchesne is an ex-officio, non-voting member of the Board, bringing the total number of members to 15.
Chamber member organizations in good standing each have one vote in the elections, and must attend the AGM in-person to participate.
Read Executive and Candidate Bios
-30-
Since 1971, the Tri-Cities Chamber of Commerce has been the largest business association serving Coquitlam, Port Coquitlam, Port Moody, Anmore, and Belcarra, now representing 1,000+ organizations from every sector. The Chamber works to foster economic development, provide connections and benefits, and influence public policy at all levels of government to ensure strong business and strong communities. The Tri-Cities Chamber is an active member of the BC and Canadian Chambers of Commerce.
For more information, contact:
Leslie Courchesne, Chief Executive Officer
Tri-Cities Chamber of Commerce
ceo@tricitieschamber.com
604.468.6870