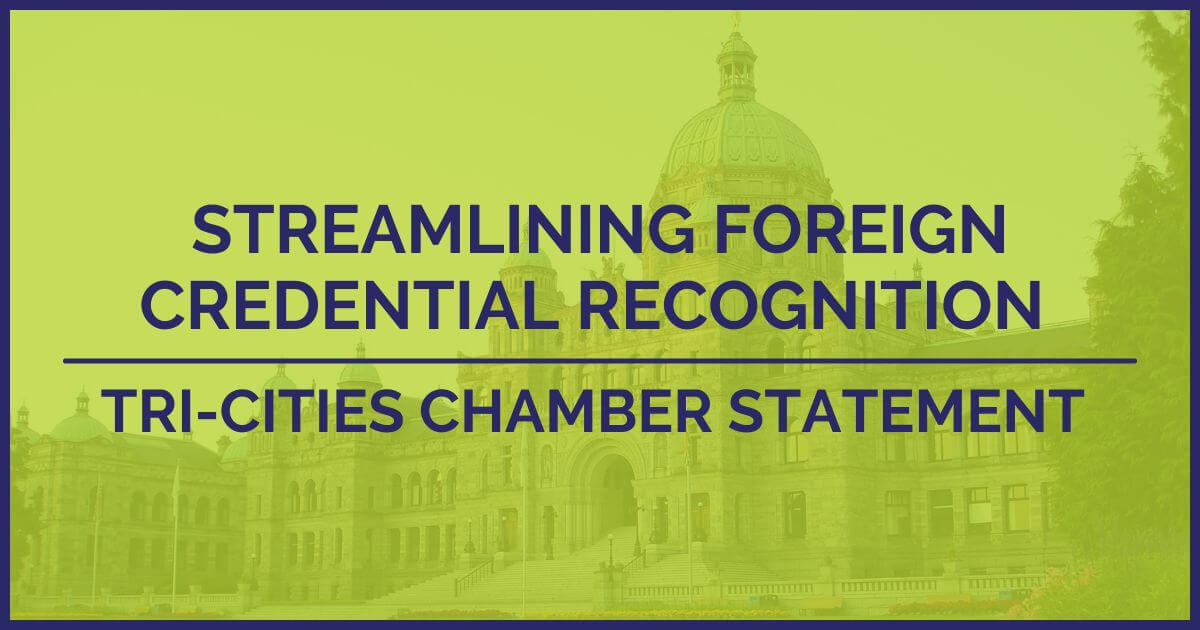 (TRI-CITIES) November 3, 2023 — The Tri-Cities Chamber of Commerce applauds the BC Government's introduction of the International Credentials Recognition Act. If passed, it will enable people in 29 professions who have done their education and training abroad to get into BC's workforce faster.
"Removing red tape and barriers for people with foreign credentials to enter our workforce is critical to alleviate labour market shortages here in the Tri-Cities and across the province," said Leslie Courchesne, CEO, Tri-Cities Chamber. "The Tri-Cities has many talented professionals trained abroad who have been unable to work in their profession here. After years of advocacy together with the BC Chamber of Commerce network, we are pleased to finally see this change being made for certain professions, and hope there are more professions included in the near future."
The proposed Act covers 29 professions including engineers, social workers, early childhood educators, paramedics, and teachers. It does not extend to healthcare and trades professionals.
The Tri-Cities Chamber, along with chambers and boards of trade across the province, will continue to urge the BC Government and regulatory bodies to address the credential recognition barriers faced by professionals in healthcare and trades.
Read the BC Government news release here.
-30-
Since 1971, the Tri-Cities Chamber of Commerce has been the largest business association serving Coquitlam, Port Coquitlam, Port Moody, Anmore, and Belcarra, now representing 1,000+ organizations from every sector. The Chamber works to foster economic development, provide connections and benefits, and influence public policy at all levels of government to ensure strong business and strong communities. The Tri-Cities Chamber is an active member of the BC and Canadian Chambers of Commerce.
For more information, contact:
Leslie Courchesne, Chief Executive Officer
Tri-Cities Chamber of Commerce
ceo@tricitieschamber.com
604.468.6870