(COQUITLAM) October 23, 2023 — Nearly 80 organizations exhibited their goods and services at the Tri-Cities Chamber 2023 Business Showcase, held October 17 at The Show Theatre, Hard Rock Casino in Coquitlam. Taking place during National Small Business Week, the tradeshow-style event was open 3 to 7 p.m., and featured a networking lounge area for attendees to connect with each other.
"Small businesses are the backbone of our local economy, and it was excellent to see the innovation and creativity at our Business Showcase," said Leslie Courchesne, CEO, Tri-Cities Chamber. "The Chamber was so pleased to connect our member businesses with each other and the wider community at this event during Small Business Week. The buzz in the room was fantastic. My sincere thanks to all of our attendees, sponsors and exhibitors for making this event such a success."
Attendees enjoyed food and product samples, as well as the chance to win many draw prizes, while learning about the offerings of the participating businesses. Tickets were $15 in advance or at the door, and included a beverage ticket.
Thank you to all of our sponsors, including presenting sponsor MNP, as well as Coquitlam Continuing Education, BDC, Butter Studios, TriCity News, Sandpiper Signs & Decals, Six Degrees Productions, and Galactic Entertainment.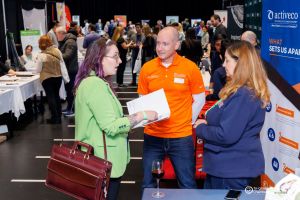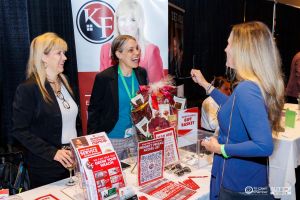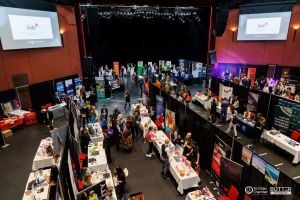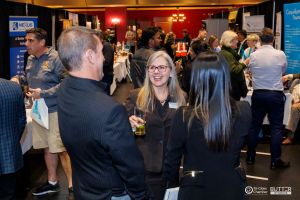 2023 Photo Album (Butter Studios)
2023 Exhibitor List:
Acciona Facility Services Canada Ltd.
Action Auto Glass Inc.
ActiveCo Technology Management
Baylink Networks Inc.
BCLC
Business Development Bank of Canada
Blink Card
Boro and Beyond
BTM Lawyers LLP
Bump Physio & Co.
Butter Studios
Canada Revenue Agency
Cannoli King
Cartref Properties Ltd.
Cedar Creek Property Services
Chambers Group Insurance Plan
Canadian Immigration Access
City of Coquitlam
Clark Woods LLP
Coquitlam Continuing Education
Details by Lady T
Dinakis Mediterrean Grill
Douglas College
Eagle Ridge Hospital Foundation
Easy Allied Health Ltd.
Edward Jones - Lena Keshysheva & Alyson Nicol
Elevate CoWorks
EMF Immigration Services
EMT Safety Planners
Everglade Development
Evergreen Cultural Centre
Express Employment Professionals
Export Navigator - SBBC
Floor Coverings International
Garton & Harris
Industry Workwear
Inlet Technologies Ltd.
Jamie Banfield Design Inc.
Kelly Fry Team - Keller Williams Elite Realty
KFN Enterprises LP.
LFT Group Brands Ltd.
Low Entropy Foundation
Manhas Health Co.
Mark George - Keller Williams Elite Realty
Massive Canada
Me-n-Ed's Pizza
MNP LLP
Neil Squire Society
Network Hearing
Nexus Insurance Brokers Ltd.
Paint Nite
Pasta Polo
Prospera Credit Union
Redpath Relocations Inc.
Rise CPA
Scotiabank Women Initative
Seniors Professional Services
Sentinel Storage
Six Degrees Productions
Soul Bite Food Inc.
Spotlight Events
Stonehaus Realty
TD Canada Trust
Team Roycroft - Royal LePage West
The Astoria Retirement Residence
The Fountainhead Network
Translink
Tri-Cities Chamber of Commerce
Tri Cities Coffee News
Tri-Cities Foundations
Tri-Cities Young Professional
Tri-City News
Uptown Notaries
Vision2Reality Foundation
Women in Business
YMCA BC - Bettie Allard
You Move Me
YWCA Metro Vancouver
-30-
Since 1971, the Tri-Cities Chamber of Commerce has been the largest business association serving Coquitlam, Port Coquitlam, Port Moody, Anmore, and Belcarra, now representing 1,000+ organizations from every sector. The Chamber works to foster economic development, provide connections and benefits, and influence public policy at all levels of government to ensure strong business and strong communities. The Tri-Cities Chamber is an active member of the BC and Canadian Chambers of Commerce.
For more information, contact:
Leslie Courchesne, Chief Executive Officer
Tri-Cities Chamber of Commerce
ceo@tricitieschamber.com
604.468.6870