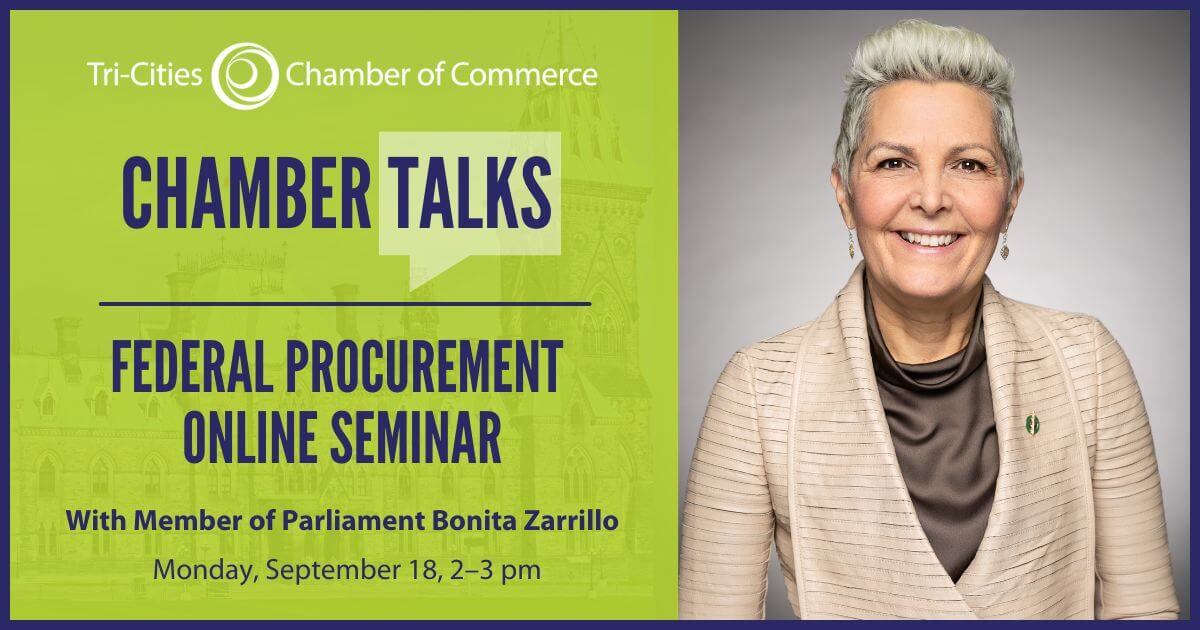 (TRI-CITIES) September 18, 2023 — The Tri-Cities Chamber of Commerce wants to help its member businesses land federal contracts for goods and services. Its latest online Chamber Talks seminar dug into the details.
Hosted by Member of Parliament Bonita Zarrillo and special guests Sara Anne Hrycenko and Tara Hartley from Public Services and Procurement Canada, the discussion covered the basics of selling to the federal government, including opportunities for smaller and diverse businesses, contracting, finding opportunities, building networks and becoming a supplier.
"The Government of Canada purchases a staggering $24 billion of goods and services every year, and we like to see more of those dollars go to Tri-Cities businesses," said Leslie Courchesne, CEO, Tri-Cities Chamber of Commerce.
"Our Chamber is passionate about providing exceptional value to our member businesses to help them succeed and thrive. Our Chamber Talks series helps to educate and inform our business community, and this session hosted by MP Bonita Zarrillo on how to compete for lucrative federal contracts was truly exceptional. My sincere thanks to MP Zarrillo and the team at Public Services and Procurement Canada for this seminar," she added.
"This is an opportunity to shine a light on how local businesses can sell to the federal government, and to create that link between our community and that federal department that might feel out of reach for small or medium-sized businesses," said MP Zarrillo.
Watch the video here:
Download the summary document here: Introduction to federal procurement - Notes.
-30-
Since 1971, the Tri-Cities Chamber of Commerce has been the largest business association serving Coquitlam, Port Coquitlam, Port Moody, Anmore, and Belcarra, now representing 1,000+ organizations from every sector. The Chamber works to foster economic development, provide connections and benefits, and influence public policy at all levels of government to ensure strong business and strong communities. The Tri-Cities Chamber is an active member of the BC and Canadian Chambers of Commerce.
For more information, contact:
Leslie Courchesne, Chief Executive Officer
Tri-Cities Chamber of Commerce
ceo@tricitieschamber.com
604.468.6870