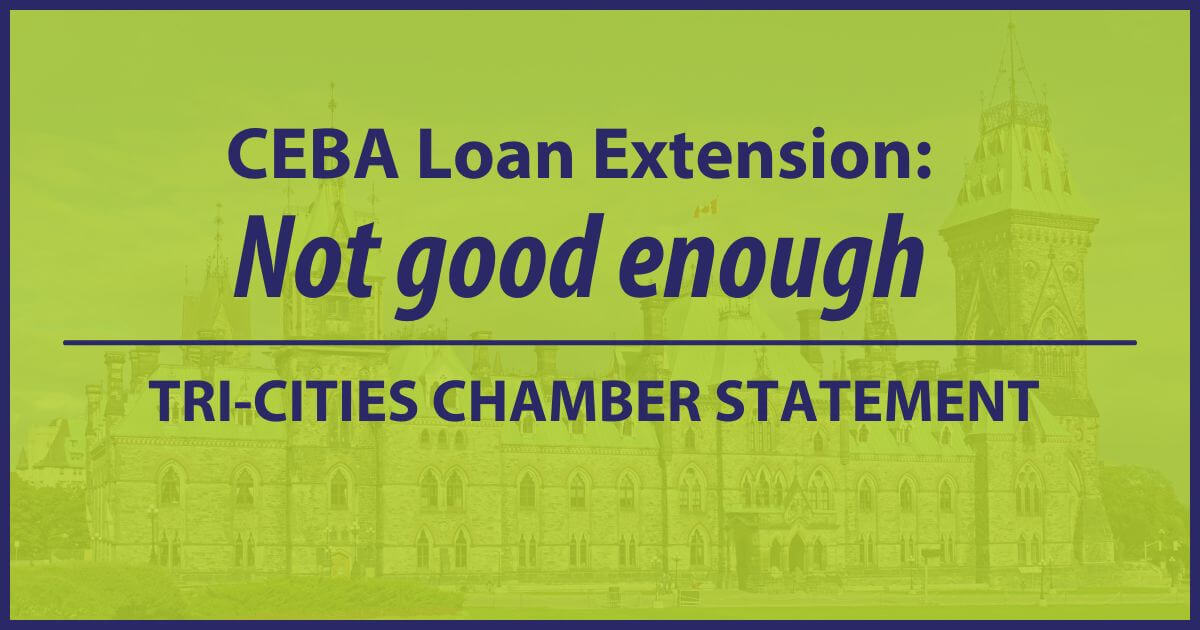 (TRI-CITIES) September 15, 2023 — The Tri-Cities Chamber of Commerce is disappointed in the federal government's announcement to extend the repayment deadline for CEBA (Canadian Emergency Business Account) loans for struggling businesses.
"It's simply not good enough," says Leslie Courchesne, CEO of the Tri-Cities Chamber. "We have been advocating for a two-year extension on the repayment of these loans, and maintaining the forgivable portion. In their announcement, the federal government fell very short in understanding what small business owners need to survive and recover from the effects of the pandemic, the extraordinary rising costs of doing business, and other challenges."
In response to the COVID-19 pandemic's effect on the economy in 2020, the Government of Canada launched the CEBA loan program, with eligible businesses receiving up to a $60,000 interest-free loan. Prior to yesterday's announcement, the deadline to repay the loan was on or before December 31, 2023, for eligible CEBA borrowers in good standing, resulting in loan forgiveness of up to 33 percent (up to $20,000).
Yesterday, the federal government announced a mere 18-day extension to that deadline for most businesses, to January 18, 2024. And for those businesses that can secure refinancing, it only extends it until March 28, 2024.
Businesses that do not repay the loan in full by the new deadlines will lose the forgivable portion of up to $20,000, and the loan will convert to a new low-interest loan.  This announcement did extend the repayment of these new loans by an additional year to December 31, 2026.
For the latest information on the CEBA loan program, visit https://ceba-cuec.ca/.
Related stories:
-30-
Since 1971, the Tri-Cities Chamber of Commerce has been the largest business association serving Coquitlam, Port Coquitlam, Port Moody, Anmore, and Belcarra, now representing 1,000+ organizations from every sector. The Chamber works to foster economic development, provide connections and benefits, and influence public policy at all levels of government to ensure strong business and strong communities. The Tri-Cities Chamber is an active member of the BC and Canadian Chambers of Commerce.
For more information, contact:
Leslie Courchesne, Chief Executive Officer
Tri-Cities Chamber of Commerce
ceo@tricitieschamber.com
604.468.6870