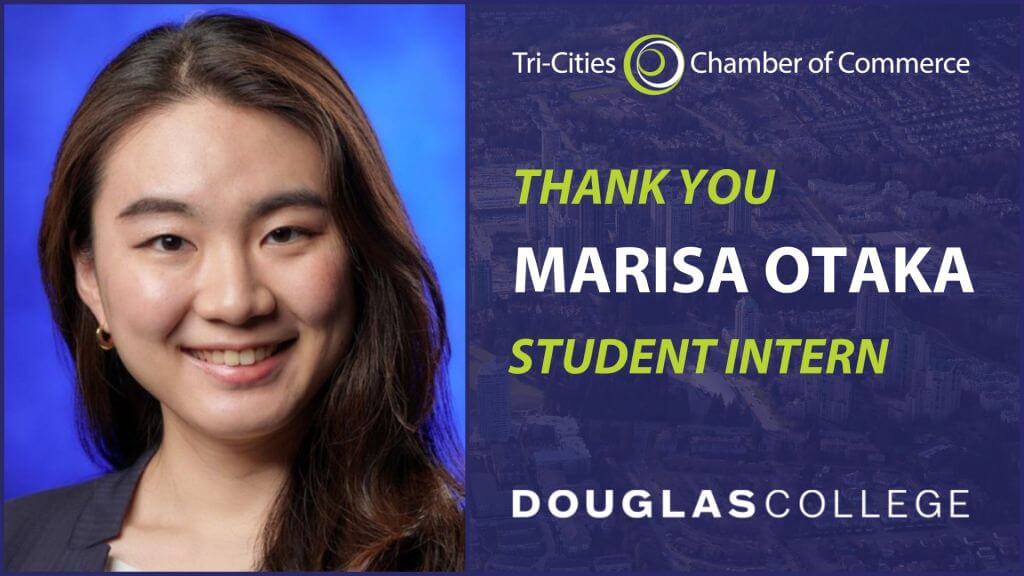 (TRI-CITIES) August 29, 2023 — Douglas College international student Marisa Otaka recently completed a four-month internship at the Tri-Cities Chamber of Commerce as the capstone of her Post-Baccalaureate Diploma program in Marketing.
"Marisa was stellar from day one on the job," said Leslie Courchesne, CEO, Tri-Cities Chamber. "She brought excellent skills to her role and was a very fast learner with a strong work ethic. Her willingness to dive in and take on a wide range of responsibilities could not have come at a better time. I have no hesitation recommending Marisa for future positions in her field."
Hailing from Japan, Marisa's role with the Chamber included marketing campaigns, social media, event production, and project planning. She met many members at events including the International Women's Day brunch, Portugal Trip information session, Women in Business' Swing into Spring, Golf Classic, Tri-Cities Young Professional (TCYP) Wine Club en Blanc, and Sip 'n Snap member mixer.
"It was a great opportunity to do an internship at the Tri-Cities Chamber of Commerce," said Marisa. "I did not have any experience working at an office in Canada but during this internship, I learned Canadian business culture and marketing skills. I am sure that these experiences will help me in my future career path."
"I really enjoyed working at the Tri-Cities Chamber of Commerce," Marisa added. "I couldn't be more grateful for a warm welcome and support from the people I met."
"Business Interns contribute bench strength and energy to your team and gain valuable hands-on experience related to their academic work," said Carlos Davalos, Employer Engagement Officer, Business Development Department at Douglas College. "We invite employers to support the community by hosting an eager intern looking to add to your team's success."
"Many of our Chamber members are having difficulty filling their vacant positions right now, given the challenging labour market," said Courchesne. "If you're an employer looking for some additional help, I highly recommend Douglas College intern students, who work 12-hours per week for four months on a volunteer basis."
For employers looking to host an intern student, contact Barb Kojder, Douglas College at kojderb@douglascollege.ca.
Douglas College has been a member of the Tri-Cities Chamber of Commerce for more than 10 years, and in 2022 became a pillar partner in addition to being the presenting sponsor of the Chamber's annual Business Excellence Awards.
-30-
Since 1971, the Tri-Cities Chamber of Commerce has been the largest business association serving Coquitlam, Port Coquitlam, Port Moody, Anmore, and Belcarra, now representing 1,000+ organizations from every sector. The Chamber works to foster economic development, provide connections and benefits, and influence public policy at all levels of government to ensure strong business and strong communities. The Tri-Cities Chamber is an active member of the BC and Canadian Chambers of Commerce.
For more information, contact:
Leslie Courchesne, Chief Executive Officer
Tri-Cities Chamber of Commerce
ceo@tricitieschamber.com
604.468.6870