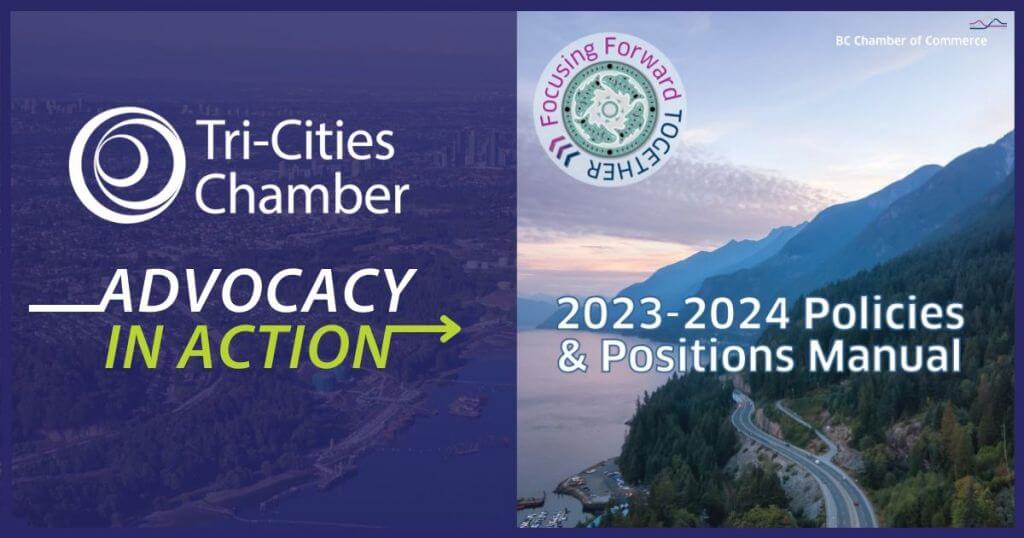 (TRI-CITIES) August 24, 2023 — The BC Chamber of Commerce has released its 2023-2024 Policies & Positions Manual, for use as an advocacy playbook by its member Chambers and Boards of Trade across the province, including the Tri-Cities Chamber of Commerce. The document contains 61 policy resolutions approved at the provincial association's Annual General Meeting and Conference held in Whistler in June, attended by Tri-Cities Chamber Board Chair Jenifer Wright, and Vice-Chair Daniel Richardson.
"Strong advocacy to ensure our local businesses survive and thrive is such an important focus for the work that our Chamber does, and I was pleased the needs of Tri-Cities business were heard at the BC Chamber Conference," said Leslie Courchesne, CEO, Tri-Cities Chamber. "When Chambers and Boards of Trade work together to leverage the power of our collective voice with all levels of government, we can affect significant change that make our businesses and communities stronger."
"The manual reflects what our members view as the most important issues that need to be addressed by government to support their communities and members," said Fiona Famulak, President and CEO of the BC Chamber of Commerce. "Through the policies contained in this year's manual, our network is asking governments to leverage B.C.'s strong foundation as a springboard to a future where businesses are successful, families thrive and communities flourish."
The Tri-Cities Chamber endorses the broad spectrum of policies adopted in this year's policy manual, including those addressing taxation, indigenous reconciliation, housing, public safety, and workforce issues. Some examples include:
Excluding Ineligible Employees from Employer Health Tax Payroll Calculations – seeks to exempt the remuneration paid to temporary foreign workers from the EHT payroll threshold, because the provincial government does not allow them to access public health care.
Addressing the Costs Businesses Face Due to Crime and the Consequences of Illicit Drug Decriminalization – calls for limits on the consumption of drugs in public spaces, similar to the requests being made by many municipal governments.
Financial Supports for Indigenous Investments in Core Economic Sectors – requests government develop financial mechanisms to facilitate Indigenous investment and ownership in major projects in the province.
The policies contained in the manual are directed towards the provincial and federal governments, and will guide the Tri-Cities Chamber's advocacy work for the coming year.
Courchesne will represent the Tri-Cities Chamber's policy interests on the national level at the Canadian Chamber of Commerce AGM and Convention on October 12-14, in Calgary.
View the full 2023-2024 Policies & Positions Manual from the BC Chamber of Commerce.
-30-
Since 1971, the Tri-Cities Chamber of Commerce has been the largest business association serving Coquitlam, Port Coquitlam, Port Moody, Anmore, and Belcarra, now representing 1,000+ organizations from every sector. The Chamber works to foster economic development, provide connections and benefits, and influence public policy at all levels of government to ensure strong business and strong communities. The Tri-Cities Chamber is an active member of the BC and Canadian Chambers of Commerce.
For more information, contact:
Leslie Courchesne, Chief Executive Officer
Tri-Cities Chamber of Commerce
ceo@tricitieschamber.com
604.468.6870