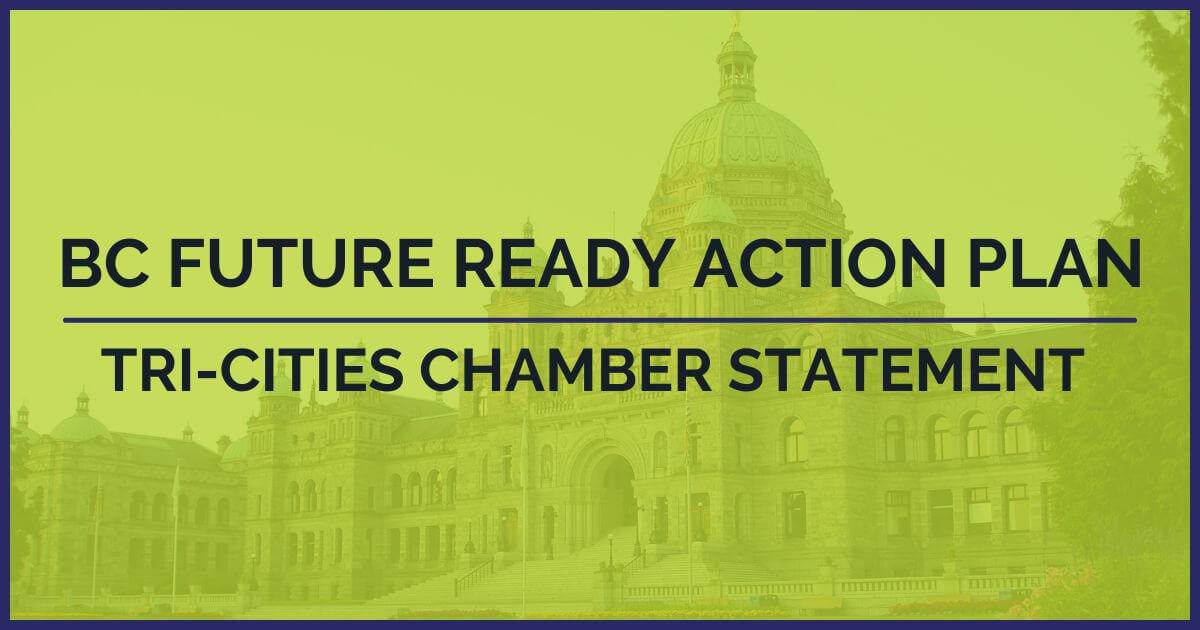 (TRI-CITIES) May 3, 2023 — In response to the BC Government's Stronger BC: Future Ready Action Plan unveiled yesterday, the Tri-Cities Chamber of Commerce has released the following statement.
"Many Tri-Cities employers have shared with me their struggles to find skilled workers to fill vacancies and help their businesses grow," said Leslie Courchesne, CEO of the Tri-Cities Chamber of Commerce. "The significant investment by this government outlined in the Future Ready Action Plan is a big step in the right direction to help our economy and our businesses, and I particularly applaud the inclusion of indigenous peoples, immigrants, and people facing barriers."
"Ensuring we have programs in place to develop and train workers for the jobs of tomorrow is critical for businesses of all sizes across the province. The provincial government's allocation of $480 million over three years towards skills development is significant, and we applaud the investment," said Fiona Famulak, President and CEO of the BC Chamber of Commerce. "The Future Ready Action Plan will help businesses hire the right people, with the right skills, at the right time and we are optimistic this plan will foster innovation, help increase productivity and grow our economy.
"The BC Chamber of Commerce has proactively advocated for expanded micro-credentialling programs, expedited foreign credential recognition and the ability for businesses to access supports for on-the-job training. We are pleased government's plan includes a variety of pathways through which to address long-standing skilled workforce challenges and look forward to our province realizing the positive results in future.
"Of keen interest to our members will be the Workplace Innovation Fund which is intended to help businesses innovate and develop new strategies for the future. The BC Chamber of Commerce is committed to working collaboratively with the provincial government to make certain the fund meets the needs of businesses across the province." Famulak added.
The Stronger BC: Future Ready Action Plan is introduced by Premier David Eby and Minister of Post-Secondary Education and Future Skills Selina Robinson, MLA for Coquitlam-Maillardville. Read the BC Government news release here, and the full Stronger BC: Future Ready Action Plan here.
Premier David Eby is scheduled to speak at the Tri-Cities Chamber's Economic Summit on May 16 in Coquitlam. For more information, visit the event page.
-30-
Since 1971, the Tri-Cities Chamber of Commerce has been the largest business association serving Coquitlam, Port Coquitlam, Port Moody, Anmore, and Belcarra, now representing 1,000+ organizations from every sector. The Chamber works to foster economic development, provide connections and benefits, and influence public policy at all levels of government to ensure strong business and strong communities. The Tri-Cities Chamber is an active member of the BC and Canadian Chambers of Commerce.
For more information, contact:
Leslie Courchesne, Chief Executive Officer
Tri-Cities Chamber of Commerce
ceo@tricitieschamber.com
604.468.6870