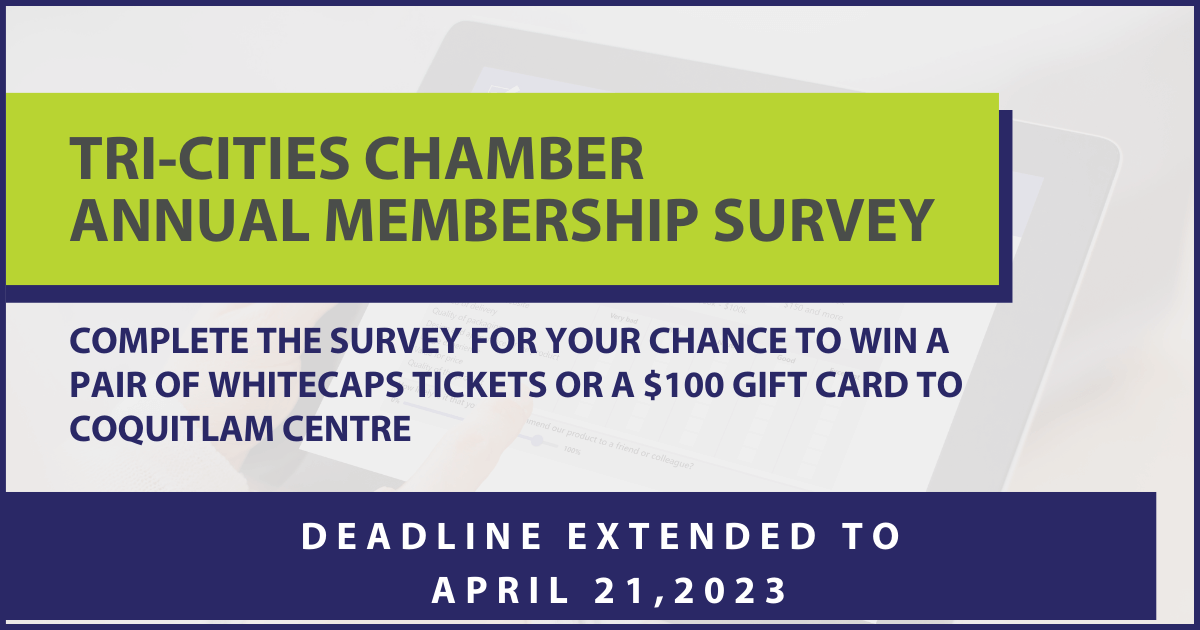 TRI-CITIES) April 3, 2023 — The Tri-Cities Chamber wants to hear from its members on a wide range of topics, and participants have the chance to win some great prizes. The survey has been extended to April 21, 2023.
Have you say. The Tri-Cities Chamber Annual Membership Survey results are vital for the Chamber's continued efforts to enhance our membership experience, advocacy efforts, communication, events, and programs, as we strategically plan for the future.
This short survey (~5 minutes) is designed to help the Chamber evaluate the services we provide to ensure that our organization continues to provide excellent value to you, our members.
Complete the survey and your name will be entered into a draw to win a pair of Whitecaps tickets or a $100 gift card to Coquitlam Centre.
Your opinion counts. Please take the survey today. Take the survey>
-30-
Since 1971, the Tri-Cities Chamber of Commerce has been the largest business association serving Coquitlam, Port Coquitlam, Port Moody, Anmore, and Belcarra, now representing 1,000+ organizations from every sector. The Chamber works to foster economic development, provide connections and benefits, and influence public policy at all levels of government to ensure strong business and strong communities. The Tri-Cities Chamber is an active member of the BC and Canadian Chambers of Commerce.
For more information, contact:
Leslie Courchesne, Chief Executive Officer
Tri-Cities Chamber of Commerce
ceo@tricitieschamber.com
604.468.6870