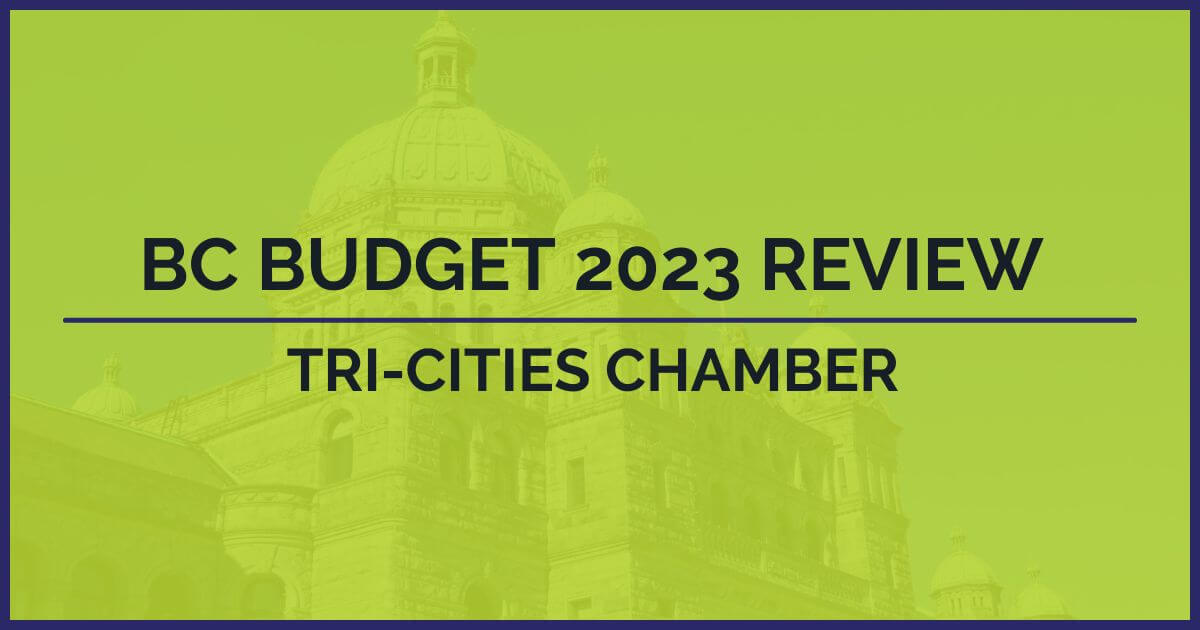 (TRI-CITIES) February 28, 2023 — The provincial government unveiled the 2023 BC Budget today in Victoria.
"The Tri-Cities Chamber of Commerce is pleased to see a number of social and community initiatives in the 2023 BC Budget. Funding to improve affordability issues for low-income British Columbians, as well as the focus on housing, homelessness, and mental health are welcomed and supported by our Chamber," said Leslie Courchesne, CEO, Tri-Cities Chamber. "But this budget has missed the mark when it comes to reducing the cost of doing business. Small- and medium-sized businesses are the backbone of our economy, and the government needs to do more to ensure businesses can thrive. Strong business is key to strong communities."
"Today's budget did not take meaningful steps towards addressing the concerns that we have raised," said Fiona Famulak, President and CEO of the BC Chamber of Commerce, in a statement. "Of particular concern to small- and medium-sized businesses is the increase to the carbon tax of $15 per tonne per year through 2030 with little to offset the costs they will incur. This is going to impact our supply chains and raise costs of producing goods in British Columbia."
"This budget was an opportunity for government to help businesses navigate through and beyond a very difficult past few years. A step such as adjusting the Employer Health Tax threshold would have demonstrated that government is willing to address the challenges that many of our members face. Unfortunately, that opportunity was missed," Famulak added.
Both the Tri-Cities and BC Chambers of Commerce are pleased to see $58 million directed toward speeding up foreign credential recognition. The Chambers are optimistic about the new Future Ready plan to provide small- and medium-sized businesses with support to address labour force challenges, and look forward to working on behalf of members to influence how the $480 million investment for this plan will be allocated.
View the full 2023 Budget and Fiscal Plan here.
View the 2023 Budget slide deck summary here.
-30-
Since 1971, the Tri-Cities Chamber of Commerce has been the largest business association serving Coquitlam, Port Coquitlam, Port Moody, Anmore, and Belcarra, now representing 1,000+ organizations from every sector. The Chamber works to foster economic development, provide connections and benefits, and influence public policy at all levels of government to ensure strong business and strong communities. The Tri-Cities Chamber is an active member of the BC and Canadian Chambers of Commerce.
For more information, contact:
Leslie Courchesne, Chief Executive Officer
Tri-Cities Chamber of Commerce
ceo@tricitieschamber.com
604.468.6870