(TRI-CITIES) November 30, 2022 — TransLink CEO Kevin Quinn's presentation to the Tri-Cities Chamber at its Annual General Meeting last week was a timely one.
With Port Coquitlam Mayor Brad West newly appointed as Chair of TransLink's Mayors' Council, TransLink's redevelopment plans for the Coquitlam Central Station parking lot, ongoing transit-oriented development across the region, and demand for increased public transit services to popular parks in Anmore and Belcarra, there was much to talk about.
Quinn, who lives in Coquitlam, reported TransLink's ridership is now at 80% of pre-pandemic levels. He gave a high level overview of their strategic plan, including their initiatives on climate action, real estate development, and their focus on enhancing customer experience, before moving into a more local focus.
"There are a lot of exciting projects happening right now in the Tri-Cities," said Quinn. "We are investing heavily in active transportation, adding cycle tracks and improved pedestrian facilities, for example between Pinetree and Westwood Streets on Lougheed Highway, filling a significant gap in the major bikeway network. We also provided funding for the Murray Street bike lane in Port Moody, as well as a mixed-use pathway on St. Johns Street, making streets more people-centred.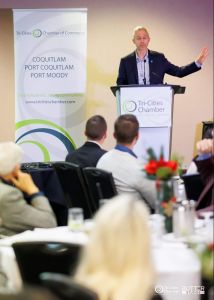 "Looking forward, our 10-year priorities focus on a wide-range of improved services for the Tri-Cities. In Port Coquitlam, we are looking at rapid transit extensions to and from Surrey," Quinn said, citing the importance of connections between growing cities across the region, not just to and from downtown Vancouver. "We are also studying the potential of extending the Millennium Line to Port Coquitlam, and we are advancing the implementation of a fast, reliable express bus service also along that corridor."
In Coquitlam, Quinn said TransLink looks forward to developing the Coquitlam Central property to include mixed use commercial and residential housing units, and have called for expressions of interest to design a vision in line with Coquitlam's downtown master plan. In the more immediate future, there are plans to implement Bus Rapid Transit (BRT), along Lougheed Highway.
Quinn acknowledged that he and his family have struggled to access White Pine Beach and Buntzen Lake in the summer, and knows that increased transit services to the popular parks can be part of the solution.
TransLink has also recently announced its Transit Friendly Employer program, to acknowledge organizations who promote ridership among their employees through subsidized transit passes.
TransLink has been a member of the Tri-Cities Chamber of Commerce for nearly 15 years.
Read the related Tri-Cities Chamber Annual General Meeting story here.
View the Facebook gallery of AGM event photos here.
-30-
Since 1971, the Tri-Cities Chamber of Commerce has been the largest business association serving Coquitlam, Port Coquitlam, Port Moody, Anmore, and Belcarra, now representing 1,000+ organizations from every sector. The Chamber works to foster economic development, provide connections and benefits, and influence public policy at all levels of government to ensure strong business and strong communities. The Tri-Cities Chamber is an active member of the BC and Canadian Chambers of Commerce.
For more information, contact:
Leslie Courchesne, Chief Executive Officer
Tri-Cities Chamber of Commerce
ceo@tricitieschamber.com
604.468.6870