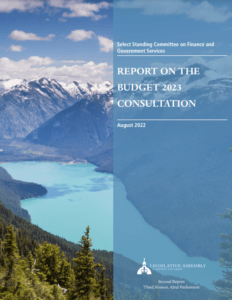 (TRI-CITIES) August 16, 2022 — The provincial government has released its Report on the Budget 2023 Consultation, including recommendations supported by the Tri-Cities Chamber to address challenges small and medium-sized businesses continue to face.
With 216 recommendations overall, the report outlines actions the government should take in the next provincial budget on a wide range of issues, including the skilled labour shortage, employer health tax, sales tax, tax thresholds, incentivizing clean energy, and addressing cost pressures for businesses, homebuyers, and consumers.
"Small- and medium-sized businesses are the backbone of the Tri-Cities and B.C. economy," said Leslie Courchesne, CEO of the Tri-Cities Chamber of Commerce. "We need all levels of government to work together with the private sector to address challenges that these businesses continue to face, to build a better and stronger economy for everyone."
-30-
Since 1971, the Tri-Cities Chamber of Commerce has been the largest business association serving Coquitlam, Port Coquitlam, Port Moody, Anmore, and Belcarra, now representing 800+ businesses from every sector. The Chamber works to foster economic development, provide connections and benefits, and influence public policy at all levels of government to ensure strong business and strong community. The Tri-Cities Chamber is an active member of the BC and Canadian Chambers of Commerce.
For more information, contact:
Leslie Courchesne, Chief Executive Officer
Tri-Cities Chamber of Commerce
ceo@tricitieschamber.com
604.468.6870