Written by Leslie Courchesne, CEO of the Tri-Cities Chamber
First published in the Tri-City News on Thursday, July 28, 2022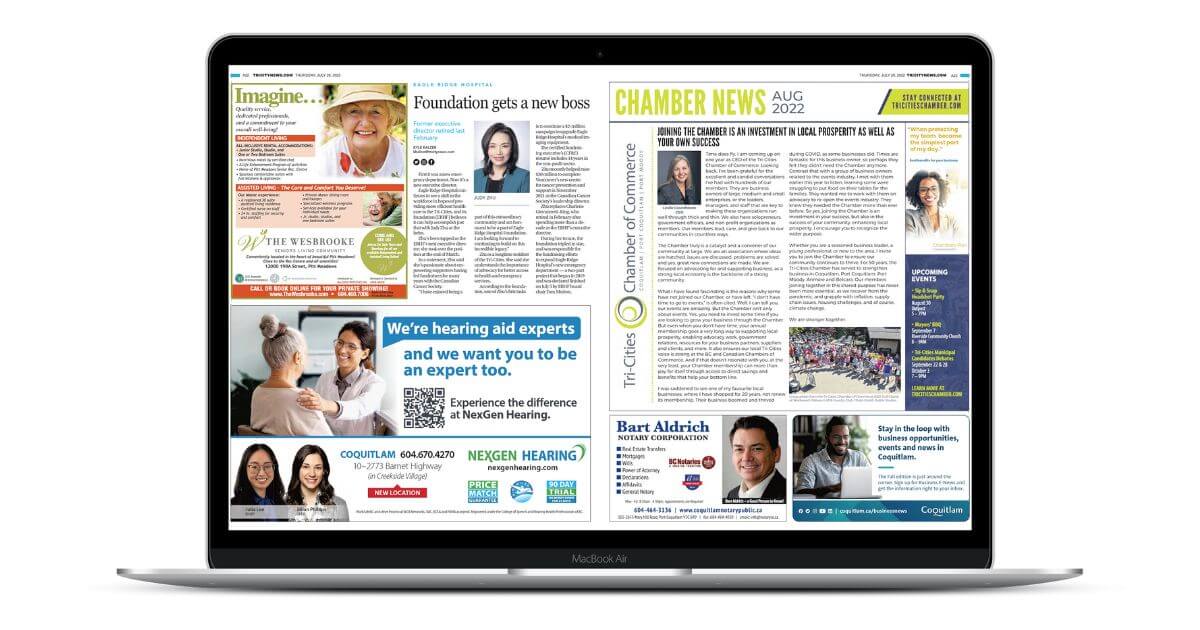 ---
Time does fly. I am coming up on one year as CEO of the Tri-Cities Chamber of Commerce. Looking back, I've been grateful for the excellent and candid conversations I've had with hundreds of our members. They are business owners of large, medium and small enterprises, or the leaders, managers, and staff that are key to making these organizations run well through thick and thin. We also have solopreneurs, government officials, and non-profit organizations as members. Our members lead, care, and give back to our communities in countless ways.
The Chamber truly is a catalyst and a convener of our community at large. We are an association where ideas are hatched, issues are discussed, problems are solved, and yes, great new connections are made. We are focused on advocating for and supporting business, as a strong local economy is the backbone of a strong community.
What I have found fascinating is the reasons why some have not joined our Chamber, or have left. "I don't have time to go to events," is often cited. Well, I can tell you, our events are amazing. But the Chamber isn't only about events. Yes, you need to invest some time if you are looking to grow your business through the Chamber.
But even when you don't have time, your annual membership goes a very long way to supporting local prosperity, enabling advocacy work, government relations, resources for your business partners, suppliers and clients, and more. It also ensures our local Tri-Cities voice is strong at the BC and Canadian Chambers of Commerce. And if that doesn't resonate with you, at the very least, your Chamber membership can more than pay for itself through access to direct savings and benefits that help your bottom line.
I was saddened to see one of my favourite local businesses, where I have shopped for 20 years, not renew its membership. Their business boomed and thrived during COVID, as some businesses did. Times are fantastic for this business owner, so perhaps they felt they didn't need the Chamber anymore. Contrast that with a group of business owners related to the events industry. I met with them earlier this year to listen, learning some were struggling to put food on the table for their families. They wanted me to work with them on advocacy to re-open the events industry. They knew they needed the Chamber more than ever before. So yes, joining the Chamber is an investment in your success, but also in the success of your community, enhancing local prosperity. I encourage you to recognize the wider purpose.
Whether you are a seasoned business leader, a young professional, or new to the area, I invite you to join the Chamber to ensure our community continues to thrive. For 50 years, the Tri-Cities Chamber has served to strengthen business in Coquitlam, Port Coquitlam, Port Moody, Anmore and Belcarra. Our members joining together in this shared purpose has never been more essential, as we recover from the pandemic, and grapple with inflation, supply chain issues, housing challenges, and of course, climate change.
We are stronger together.