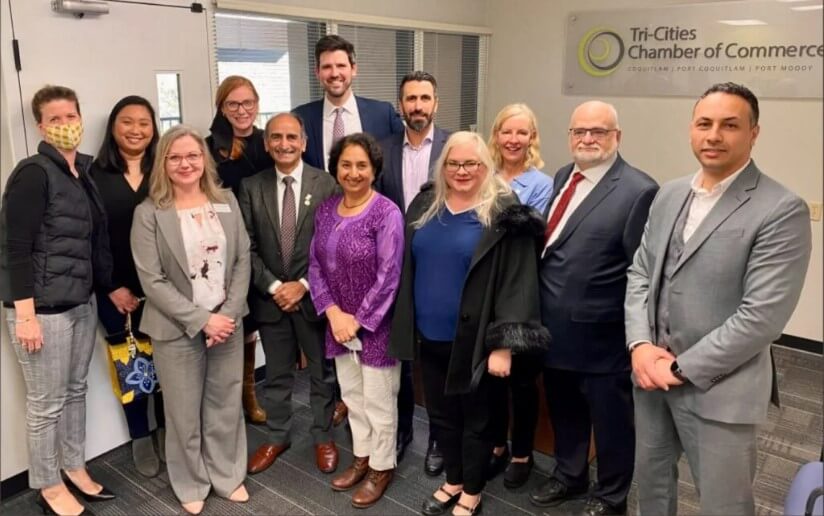 (TRI-CITIES) April 13, 2022 — Nine Tri-Cities Chamber of Commerce members attended an in-person roundtable with Canada's Minister of  Immigration, Refugees, and Citizenship Sean Fraser, and MP Coquitlam-Port Coquitlam Ron McKinnon, at the chamber offices today.
"We were very pleased to host this event for a group of our members who are highly engaged in immigration and employment issues, in particular, addressing the labour force shortage and expected increase in refugees from Ukraine," said Leslie Courchesne, CEO, Tri-Cities Chamber. "My sincere thanks to MP Ron McKinnon and Minister Sean Fraser for this opportunity, and to all of our members who attended this frank and forward-looking discussion that was focused on solutions."
The meeting covered wide-ranging topics including: foreign credential recognition and job matching, labour force shortages, hiring temporary foreign workers, the Labour Force Impact Assessment (LMIA), cost of living challenges, international students, processing times, and more.
Invited chamber members in attendance were; Mary Vellani (Chamber Board Past Chair), TD Bank; Kathryn Millar (Chamber Board Director), Indigenous Worx; Abigail Cameron, Tri-Cities Local Immigration Partnership; Ryan Drew, S.U.C.C.E.S.S.; Claire MacLean, SHARE Family & Community Services; Navid Morawej, Aultrust Financial/Parkland Players; Ravinder and Achla Safaya, Steps Together Foundation; and Amr Shehata, CIMMA Canadian Immigration Access.
Chamber member Chachi's provided lunch for the attendees.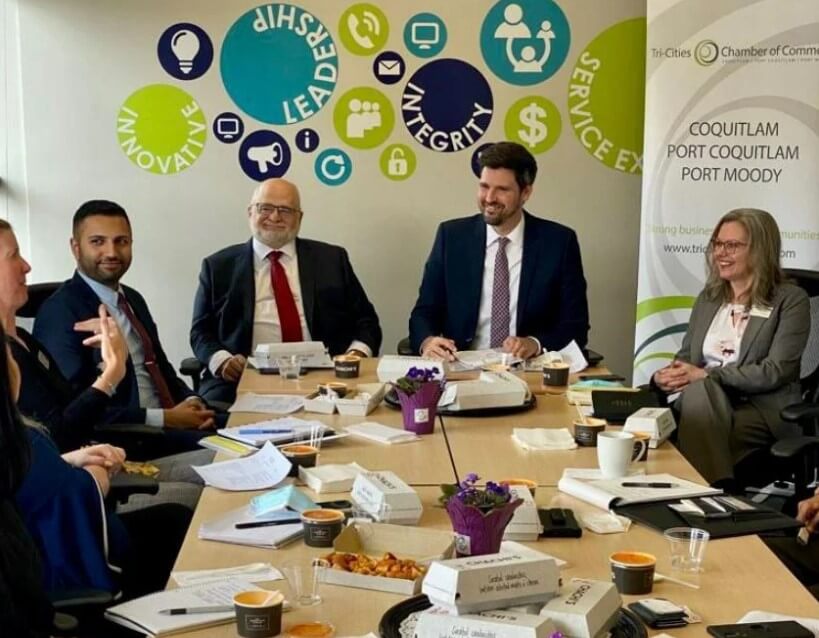 -30-
Since 1971, the Tri-Cities Chamber of Commerce has been the largest business association serving Coquitlam, Port Coquitlam, Port Moody, Anmore, and Belcarra, now representing 800+ organizations from every sector. The Chamber works to foster economic development, provide connections and benefits, and influence public policy at all levels of government to ensure strong business and strong communities. The Tri-Cities Chamber is an active member of the BC and Canadian Chambers of Commerce.
For more information, contact:
Leslie Courchesne, Chief Executive Officer
Tri-Cities Chamber of Commerce
ceo@tricitieschamber.com
604.468.6870